Florida Motorcycle Practice Test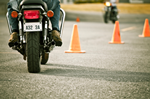 Avoid the 50 percent failure rate
Throw out those boring handbooks and study guides
This course has been proven to work
details
Sign Up Now - Instant Access
Course Summary
Are you ready to take your motorcycle out for a spin? Before you can legally ride your new toy, you'll need to obtain a motorcycle license. Though the DMV offers a difficult exam, our Florida motorcycle practice test will assist you in speeding right through the assessment and becoming the best and safest driver you can possibly be. Don't let this chance pass you by - register today!
Access Time: 30-Days
When it comes to taking the DMV exam, could you benefit from having a bit of assistance? It's perfectly okay to seek help; our prep course will definitely allow you to receive your license sooner rather than later. Our program offers over 600 questions to view, meaning the DMV exam will feel second nature to you.
Have access to correct answers and detailed explanations
There's no set schedule to follow - work on your own time
You won't just pass the exam, you'll completely rock it
Our Florida motorcycle practice test is affordable, effective, and easy to use, so why wouldn't you take advantage of it? If your first effort to secure your motorcycle license is a flop, you'll be extremely disappointed. Don't let this happen; start preparing now!
To make the decision a lot easier, we happily provide a range of benefits for choosing our prep course. You won't even feel as if you're involved in a learning program. You'll enjoy this process and simultaneously receive a resourceful education.
All of our questions are in the form of multiple choice
You have the advantage to work any hour and any day
The course is filled with interesting material
We're also excited to announce that our course is guaranteed - or your money back. After you've taken and successfully passed our practice test at least five times, we guarantee you'll pass the written portion of the DMV exam on your first try. If you don't, you'll receive a refund for the price of the course.
In order to get a motorcycle license in the State of Florida, you must be 16 years old and have held your learner' permit for at least a year. If you're over the age of 18, you are not required to have held a learner's permit. You will have to pass a basic rider's course. You will also have to have at least a regular Class E driver's license. Driving and hearing tests will take place, as well.
We invite you to take our practice course and see if your skills are currently up to par. You've got nothing to lose from participating in this wonderful opportunity. If you're familiar with the Florida Motorcycle Driver's Manual, you're ready to get started now. What are you waiting for?
Florida Motorcycle Resources