Delaware Motorcycle Practice Test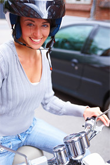 Enroll to eliminate the fear of failure
Prepare from your favorite location
No hidden fees or agendas
details
Sign Up Now - Instant Access
Course Summary
If you've been looking for a fun and fast way to prepare for your motorcycle exam, you've successfully found a program that has been proven to work. We want all drivers to be able to take advantage of this great deal, which is why we've made our Delaware motorcycle practice test completely affordable. As soon as you enroll, you'll have access to our site. Don't waste time - start today!
Access Time: 30-Days
We will effectively get you ready for the DMV exam. When you prepare with us, you will get an inside look of how the real test appears. With over 600 questions and answers available for viewing, not only will you be completely educated, but you'll also be entertained throughout this process.
It will be as if you're getting the answers before the actual exam
Don't spend hours reading and studying the DMV Handbook
An unlimited amount of chances to prepare
When you go to the DMV on test day, you'll want to leave with your motorcycle license. Our Delaware motorcycle practice test will ensure this takes place. The registration process is easy, so do it now.
To reward all drivers for wanting to further educate themselves on safe driving techniques, we've loaded our prep course with a variety of benefits. We don't want you to dread participating in our program or be bored throughout the process. Begin today and have immediate access to these features:
There are no difficult instructors to deal with
You only need Internet and a web browser to get started
Receive a resourceful education on traffic laws and signs
We've saved the best detail for last: Our course is completely guaranteed. Therefore, if you don't pass the written exam at the DMV on your first try, after successfully completing our practice test at least five times, we will provide you with a full refund for the price of our program.
If you want to obtain a motorcycle license in the State of Delaware, there are several facts you should be aware of. If you are under the age of 18, then you: must have completed Driver Education, have a Class D license, and have written permission from a parent or guardian. If you are over 18, then you must pass a written exam and a road skills test, unless you've taken and successfully completed an approved motorcycle rider education program.
Don't hesitate a moment longer to get your motorcycle license. We'll make sure you have all of the means to succeed. If you're currently aware of the Delaware Motorcycle Driver's Manual, then you can get started today. Take our practice test and start learning.
Delaware Motorcycle Resources