Connecticut Motorcycle Practice Test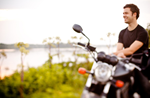 Course is inexpensive to purchase
View questions similar to those on DMV exam
Offered completely online
details
Sign Up Now - Instant Access
Course Summary
Have you always wanted to earn your motorcycle license? We can quickly and sufficiently help you achieve this goal. Our Connecticut motorcycle practice test was designed for drivers like you - those who need a fast and convenient preparation tool to ensure success is reached at the DMV. You can enroll in our prep course today and jumpstart this process.
Access Time: 30-Days
If you're too cool for school, then this prep course has your name written all over it. We've successfully eliminated the need to travel to a classroom or use an old study guide to get a resourceful education. As soon you register, you'll be presented with over 600 questions that are almost identical to the ones asked on the DMV exam. Don't feel overwhelmed, you'll also have access to the accurate answers and detailed explanations.
Course is fast and easy - you'll be finished in no time
Get an education on traffic signs, road rules, and laws
Only go to the DMV one time
The DMV motorcycle exam is known for being rather difficult. Do yourself a favor and prepare with our Connecticut motorcycle practice test. Feel free to search around, but you won't find a better program than ours.
Reasons to Take the Course
If you fail the written exam, you may have to wait a day to retake it. Even worse, you'll most likely also have to pay another test fee. But with our prep course, failure won't even be an option! To increase your learning experience, we've developed this course with tons of benefits.
Use any device you want - smart phone, iPad, computer, or tablet
You will quickly gain skills and confidence
Enroll and participate when it's convenient for you
We love informing our students that our prep course is completely guaranteed. Once you've taken and successfully completed our practice test at least five times, we guarantee you'll pass your DMV exam on your first attempt. This is a bulletproof opportunity!
Are you interested in getting a motorcycle license in Connecticut? If you already have a permit, you will still need a valid Connecticut driver's license, and proof of completing a DMV-approved course. If you don't have a permit, you will need proof of a valid Connecticut driver's license, parental consent (if under 18), and a completed non-commercial driver's license application. If you are under 18, you will not be allowed to transport passengers for the first 6 months of driving.
Become a motorcycle licensed driver today! You don't want to waste your time or money - take our practice test now to ensure this doesn't happen. If you're already familiar with the Connecticut Motorcycle Driver's Manual, then you're good to get started. We look forward to working with you!
Connecticut Motorcycle Resources