Arkansas Motorcycle Practice Test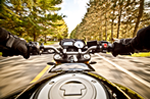 Fun and stimulating course
No commuting - work from any location
Learn important safety techniques
details
Sign Up Now - Instant Access
Course Summary
In order to obtain a motorcycle license, you will have to pass a written exam. This test is known for being quite difficult, which is why we've created a course to get you fully prepared. Our Arkansas motorcycle practice test will give you the opportunity to dominate the DMV exam. You will swiftly receive an education that will ensure you're safe and reliable every time you're on the road.
Access Time: 30-Days
One of the most popular features behind our prep course is its convenience. It's important to learn road safety measures, but you don't want to feel burdened while doing so. With more than 600 questions available throughout our program, you'll be sure to gain skills and knowledge to do well at the DMV.
An unlimited amount of chances to practice
Be exposed to rules of the road, laws, and traffic signs
Test is quite comparable to real DMV exam
When you go to the DMV, you don't even want failure to be an option, do you? With our Arkansas motorcycle practice test, you'll learn everything you need to succeed on the test without even having to spend hours studying!
Our course benefits effectively make our program different from others. We don't want you to feel as if you're attending a boring class. Now, while you're preparing for the DMV exam, you can have a good time and thoroughly enjoy the experience.
Evening or night - course always available
No study guides or books to carry around
Course is very easy to use
Another important detail about our course - it's completely guaranteed. After you've taken and passed our motorcycle prep course at least five times, we guarantee you'll pass the written portion of your motorcycle exam on your first try. If this doesn't occur, you will be given a full refund for the price of our course.
Are you ready to get your motorcycle license in the State of Arkansas? First, you must be 16 years old. If you're under 18 and wish to pursue this license, you will have to have a parent or guardian's permission. You will also have to successfully complete a knowledge test, a sign test, and a vision test. The final step of securing this license is demonstrating your skills and competency in motorcycle operation.
Before going to the DMV, play it safe and become fully educated with motorcycle knowledge and safety skills. It's also important to be familiar with the Arkansas Motorcycle Driver's Manual. Are you ready to get started? You can take our practice test now to measure your abilities.
Arkansas Motorcycle Resources