Arizona Motorcycle Practice Test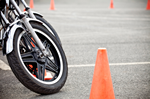 Proven to be fast and effective
Go to the DMV only once
Site is easy to navigate
details
Sign Up Now - Instant Access
Course Summary
Do you hate going to the local DMV? If you're hoping to obtain a motorcycle license and you only want to take the exam once, then you will highly consider enrolling in our online course. Developed by a team of professionals, this Arizona motorcycle practice test utilizes questions and details that are almost identical to those presented on the real test. You'll breeze through this process, so start sooner rather than later.
Access Time: 30-Days
Our prep course will allow you to work according to your own schedule. You will become fully prepared for the DMV exam in a timely fashion, as well as be apt to feel safe and secure every time you're on the road.
Over 600 different questions form our program
.
All of the questions are in a multiple choice format
Feel free to practice as many times as you want
Detailed answers to each question will be provided
When you walk into the DMV, you no longer need to feel nervous. Our Arizona motorcycle practice test will give you the boost of confidence you need to do well. You'll have so much fun throughout this entire process that you won't even realize you're learning!
We understand that participating in a course can be time consuming and hassling. We've done everything in our power to ensure that this course isn't a drag. We feel as if you should be rewarded for wanting to be a reliable driver, not punished.
With Internet access, you can work from any location
You can gain immediate access to our site
There are no instructors - you are in charge of your own progress
Finally, we are more than thrilled to tell you that our course is completely guaranteed. Therefore, if you don't pass the written portion of your motorcycle exam on your first try, after successfully completing our course at least five times, we will return the money you spent on our program.
Before you can legally get a motorcycle license in the State of Arizona, you will have to be at least 16 years old. If you are under 18, you will have to have had a valid AZ motorcycle instruction permit for at least 6 months and complete an approved motorcycle driver education program. Furthermore, you will have to pass a knowledge test, an on-cycle skills test, and a vision test.
Are you ready to hit the open road? Before you partake in our program, we request that you become familiar with the Arizona Motorcycle Driver's Manual. Do you think you're ready to go? Take our practice test now and confirm that you'll be driving in no time.
Arizona Motorcycle Resources