Alaska Motorcycle Practice Test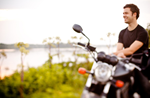 Prepare completely online
Instantly find success at the DMV
Course is user-friendly
details
Sign Up Now - Instant Access
Course Summary
Are you interested in obtaining a motorcycle license? The DMV exam is known for being quite difficult, so you'll want to fully prepare before taking the test. If you participate in our Alaska motorcycle practice test, not only will you become familiar with techniques regarding safety and skill, but you'll also be guaranteed to pass the written portion of the assessment on your first attempt. Sounds like a good deal, right? Try our prep course today!
Access Time: 30-Days
Are you worried that our course will be boring or hard to follow? You shouldn't be! You'll be completely entertained throughout this process, as we will proudly provide you with over 600 questions that are quite comparable to those found on the real DMV exam.
Answers for each question will be given
Registering is quick and easy
There are no deadlines - work at your own pace
Why risk failing the DMV exam when we are offering you a bulletproof opportunity to ensure you succeed? Our Alaska motorcycle practice test will make you feel prepared, confident, and ready to tackle the assessment in front of you.
We're pleased to announce that our prep course differs from other programs. You should obviously take the lessons learned in this program seriously, but who says you can't have a good time and enjoy this experience?
Use a smart phone, tablet, iPad, or computer
Have access to our course 24/7
Gain access to every chapter of the Alaska Driver's Manual
We've saved the best part for last: Our prep course is 100 percent guaranteed - or your money back! Once you've successfully passed our prep course at least five times, we guarantee that your first trip to the DMV to obtain a motorcycle license will be a triumph. If you don't pass the written exam, we will issue you a refund for the price of the course.
If you want to obtain a motorcycle license in the State of Alaska, you will have to be at least 16 years old. If you are younger than 18, then you will have to have had a learner's permit for at least 6 months and have a parent or guardian's consent. Minor's will also be ordered to wear helmets while driving a motorcycle or riding one as a passenger. It will be necessary to pass a vision test and a written test.
Are you currently familiar with the Alaska Motorcycle Driver's Manual? If you think you're ready to put your skills to the test, try our motorcycle practice exam today! Avoid failing the test - only enter the DMV when you are fully prepared.
Alaska Motorcycle Resources