Alabama Motorcycle Practice Test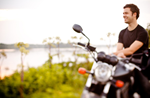 Quickly gain confidence and skills
Course is backed by proven results
Available at an affordable rate
details
Sign Up Now - Instant Access
Course Summary
When you participate in our Alabama motorcycle practice test, you will efficiently eliminate the possibility of failing the DMV written exam. We will help you learn important skills and safety measures that will ensure your first trip to the local DMV is a complete home run! What have you got to lose? Begin our prep course now!
Access Time: 30-Days
You won't have to devote a lot of time or money to participate in our prep course. We've designed it to be swift and hassle-free. Once you've logged in, you will have access to over 600 questions and answers that will mirror those asked on the real DMV exam.
You will have an unlimited amount of chances to prepare
Be exposed to rules of the road, laws, and traffic signs
Detailed explanations for each question will be provided
Once you've successfully completed our Alabama motorcycle practice test, you will feel totally comfortable and confident to ace the real DMV exam. Avoid the 50 percent failure rate by taking advantage of this resourceful opportunity.
To only increase your chances of success, we've made sure our course is packed full of benefits. You no longer need to waste time reading boring handbooks or study guides; this easy to use program will have you cruising down the road in no time.
Interactive course with stimulating material
Questions are in the form of multiple choice
The course is available 7 days a week
We are pleased to inform you that our prep course is completely guaranteed. If you don't pass the written DMV exam on your first attempt, after successfully passing our program at least five times, you will receive a full refund for the price of our course.
Alabama Motorcycle License Endorsement
In the State of Alabama, a motorcycle is defined as being a motor vehicle having a seat or saddle for the use of the rider. You must be 16 years old before you are eligible to apply for a motorcycle license. In order to obtain this license, you will have to pass a knowledge test, a signs test, and a vision test. You will need to take the following documents to the DMV: a birth certificate, a social security card, and a third form of acceptable secondary identification, before your license can be issued.
If you plan on participating in our prep course, you will want to be familiar with the Alabama Motorcycle Driver's Manual. Do you think you're ready to measure your knowledge? Take our practice test now to see where your skills currently stand. Don't let this risk-free chance pass you by.
Alabama Motorcycle Resources