How to Get a Motorcycle License
Steps to get your Motorcycle License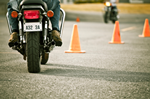 Motorcycle Endorsement and Certification
How to Prepare for your Motorcycle Exam
License Classifications and Requirements
How to Get a Motorcycle Driver's License
Before you take your motorcycle on the open road, you'll need your state's certification to drive it. Motorcycle driver's license are issued differently in every state, so please visit your state's DMV website for specific details.
In most states, there are two levels of motorcycle certification:
1. Motorcycle Permit
Like an automobile learner's permit that you'd get before earning your driver's license, a motorcycle permit is a necessary step in learning how to drive a motorcycle on the open road. This permit, usually valid for one year, is a restricted license that will not authorize you to carry a passenger on your motorcycle. Furthermore, the majority of states will prohibit you from driving after dark with your learner's permit.
Although each state has its own requirements, acquiring a motorcycle learner's permit is a straightforward process. Almost all states will require you to pass a written exam to get your motorcycle learner's permit. The written test is based on information found in your state's Motorcycle Operator's Manual, which you can usually obtain online at your state's Department of Motor Vehicles Web Site, or by visiting your local DMV office for a hard copy of the manual.
The motorcycle license written test is not easy to pass, and many applicants fail the exam. Over the past 3 years 20,000 people failed the Motorcycle Knowledge test. But by taking practice written tests, available online, you can prepare yourself for every question that you will face on the test. Sign up now for our online Motorcycle License Practice Test. You'll pass the Motorcycle Knowledge Tests the FIRST time... or we'll refund your money!
In general, your motorcycle learner's permit will require you to be supervised by a licensed motorcyclist over the age of 21.
2. Motorcycle Endorsement
An endorsement is the same as an automobile driver's license. With a motorcycle endorsement, you may legally carry a passenger, and you are allowed to drive after dark.
There are two ways to obtain a motorcycle endorsement:
Road Test - The road test is an assessment of your driving skills under simulated road conditions, in which you must demonstrate the skills that all motorcyclists must acquire. For example, you'll be required to demonstrate your ability to perform simple maneuvers such as starting, stopping, and turning. You will also be asked to carry out more complex maneuvers like sudden stops, S-turns, U-turns, and sharp turns to avoid dangerous situations. None of these basic driving skills are overly difficult, but mastering them takes time and practice.
Approved Motorcycle Rider Safety Course - Many states' DMV will waive your road test and issue you a license if you complete an approved basic motorcycle rider safety course. Of course, you'll need to secure a motorcycle learner's permit before you can attend a rider safety course. These courses last anywhere from two to six weeks, and include a minimum of six hours of classroom instruction and 8 hours of driver training in a controlled, off-street environment. When you successfully complete this course, you will be eligible for your motorcycle driver's license without having to take your state's road test.
On the Road - Once your licensing requirements have been met, the motorcycle endorsement will be added to your driver's license.
Remember... the safe operation of a motorcycle requires practiced skill, knowledge, and a respectful understanding of the limitations imposed by the operator, the machine, and the environment.