West Virginia CDL Test Requirements and Endorsement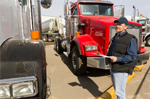 Helps to Prepare for the CDL Exam
CDL Endorsements Available by Vehicle Type
License Classifications and ID Requirements
How to Obtain Your CDL
After drivers have taken one or more knowledge tests, they can follow through with the individual endorsements that they may need. It is highly important that all CDL applicants take the General Knowledge Test, however, as this is required before an applicant can take a skills test.
Available CDL Courses
Our comprehensive West Virginia CDL practice test courses introduce you to the following individual subjects: tankers, school bus, hazardous materials, doubles/triples, air brakes, general knowledge, pre-trip inspection, and passenger transport.
Take a FREE CDL Practice Test
details
Sign Up Now - Instant Access
When do I need a CDL in West Virginia?
If you are a resident of West Virginia and drive a Class A, B, or C commercial vehicle, then you must possess a CDL. The CDL classifications are broken down as such:
Class A License - The Class A classification applies to "combination" vehicles with a Gross Combination Weight Rating (GCWR) exceeding 26,000 pounds, provided that the Gross Vehicle Weight Rating (GVWR) of the vehicle being towed exceeds 10,000 pounds.
Class B License - This class includes single or combination vehicles where the GVWR of a single vehicle exceeds 26,000 pounds. A vehicle in tow must not exceed 10,000 pounds, however. If you possess a Class B license, you can operate all vehicles in Class C or D categories.
Class C License - If a vehicle is designed to transport 16 or more passengers (including the driver), is marked for the transport of hazardous materials, or does not meet the criteria for Class A or B licenses, it will fall under this category.
About the CDL Knowledge Tests
You will have to take one or more knowledge tests, depending on what class of license and what endorsements you need. All CDL applicants must take the general knowledge test.
If you fail any portion of the knowledge examination, you must wait 7 days before you may retest. You may test 3 times on the original fees paid. After you pass the knowledge test(s) and a vision test, you will be issued a Commercial Driver Instruction Permit. The CDL instruction permit will be issued for a period not to exceed 6 months. Only one renewal or re-issuance may be granted within a two-year period from the issue date. The holder of a CDL instruction permit may drive a commercial motor vehicle of the type for which the permit is valid only when accompanied by the holder of a commercial driver license valid for the type of vehicle who occupies a seat beside the individual for the purpose of giving instruction or testing.
CDL Knowledge and Skills Tests
Depending on what license class and endorsements you need, you will have to take one or more knowledge test(s). If for any reason you fail the knowledge exam, you have to wait one week before you can re-test. When taking the skills test, you must take the tests in the vehicle (or vehicle type) in which you wish to be licensed. The following examinations must be passed:
Pre-trip Inspection - During this segment, you will be tested to see if you know whether your vehicle is safe to drive. After you have done this, you will need to explain to your examiner what you did and why.
Basic Vehicle Control - It is highly important that you are able to control the vehicle, and during this segment you will be asked to move your vehicle forward and backward, as well as turn it within a defined area.
On-road Test - During this segment, your ability to navigate left and right turns, intersections, railway crossings, as well as curves and other obstacles will all be tested.
Fees and Further Requirements
CDL instruction permits may be issued to an individual at least 18 years old who has held his or her junior operator license for at least 2 years. When you go out to obtain your CDL, you should bring your driver's license, a DOT physical examination form, and your social security card. You will also need to pay one of the following fees:
CDL testing fee: $25.
Endorsement fees: $10 each.
Skills test: $75
Applicable license fees: $8.75-$61.25
The following links are also highly beneficial:
West Virginia ID and Required Documents
Driver's License Info on West Virginia's Official DMV website
Federal Requirements for a CDL