Washington CDL Test Requirements and Endorsement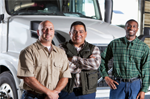 License Classifications and ID Requirements
CDL Endorsements by Vehicle Type
Helps to Prepare for the CDL Exam
How to Obtain Your CDL
Drivers will have to take one or more knowledge tests, depending on what license class and endorsements they need. All CDL applicants must take the general knowledge test as well.
Available CDL Courses
When you enroll in our Washington CDL practice test course, you are also introduced to the following individual courses: tankers, school bus, hazardous materials, air brakes, combination vehicles, doubles/triples, general knowledge, passenger transport, and pre-trip inspection.
Take a FREE CDL Practice Test
details
Sign Up Now - Instant Access
When do I need a CDL in Washington?
If you are living in the State of Washington and Drive a Class A, B, or C commercial vehicle, you must possess a CDL. Additional CDL endorsements are necessary for double/triple trailers, tanker vehicles, passenger vehicles, and vehicles marked for the transport of hazardous materials.
Class A License - The Class A specification applies to "combination" vehicles with a Gross Combination Weight Rating (GCWR) that exceeds 26,000 pounds. The vehicle being towed must also have a GVWR of 10,000 pounds or more. If you hold a Class A license, including any appropriate endorsements, you can also operate vehicles included in Class B, C, and D categories.
Class B License - This license class pertains to single and combination vehicles with a GVWR that exceeds 26,000 pounds. However, with a Class B license, the vehicle in tow may NOT exceed 10,000 pounds. A Class B license holder may drive all Class C or D vehicles.
Class C License - If a vehicle is designated to carry 16 or more passengers (including the driver), is marked to transport hazardous materials, or does not meet criteria for Class A or B licenses, then it falls under the Class C certification.
Washington law exempts three groups of drivers from having to possess a CDL: farmers transporting farm equipment, fire-fighters/law enforcement personnel operating emergency equipment, and recreational vehicle operators (RV's on non-commercial purposes).
Knowledge and Skills Tests
The knowledge test portion of this course is offered on a "first come, first served" basis, so drivers should allot at least an hour at the licensing office to complete the application. Regardless, you will have to take one or more knowledge tests, depending on what class of license you need.
After you have passed the required knowledge test(s), you can take the CDL skills test at any test location. The three skills tests are:
Pre-trip Vehicle Inspection - During this segment, you will be tested to see if you can determine that your vehicle is safe to operate. You will then have to explain to your examiner why you came to the conclusion you did.
Basic Vehicle Control - The basic control of your vehicle is paramount to operation of commercial vehicles. You will be asked to move your vehicle forward, backward, and turn within a defined area.
On-road Test - Your ability to drive in various traffic situations will be observed during this segment. The instructor will ask you to demonstrate your driving skills, and you will be graded on your performance.
Fees and Links
Before going to the Washington DMV Office, make sure that you have the following documents: a signed CDL skills test results form, your valid Washington State Driver's license, and proof of valid insurance or a letter from the owner of the vehicle authorizing you to take the test.
Washington ID and Required Documents
Driver's License Info on Washington's Official DMV website
Washington CDL Manual

Federal Requirements for a CDL
Medical Requirements for a CDL
Enroll in our comprehensive course today!
When you become involved in our Washington CDL practice test course, you are already making strides in the right direction. To take advantage of these comprehensive benefits, enroll today!