Virginia CDL Test Requirements and Endorsements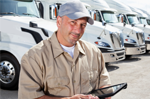 CDL Endorsement Available by Vehicle Type
Helps You Prepare for the CDL Exam
License Classifications and ID Requirements
How to Obtain Your CDL
If you are looking to obtain your CDL in the State of Virginia, drivers will have to take one or more knowledge test(s). All applicants, however, must take the General Knowledge Test before they are able to move on to the skills exams.
Available CDL Courses
Once you enroll in our Virginia CDL practice test course, you may be introduced to the following individual courses: general knowledge, tankers, pre-trip inspection, passenger transport, school bus, doubles/triples, air brakes, and combination vehicles.
Take a FREE CDL Practice Test
details
Sign Up Now - Instant Access
When do I need a CDL?
If you live in Virginia and drive a Class A, B or C commercial vehicle, you must have an Virginia Commercial Driver License (CDL). CDL Endorsements are required for double/triple trailers, tanker vehicles, passenger vehicles and vehicles placarded for hazardous materials.
You will be required to have a commercial driver's license in the following cases:
Class A License - The Class A license applies to "combination" vehicles with a Gross Combination Weight Rating (GCWR) that exceeds 26,000 pounds. The vehicle in tow needs to exceed 10,000 pounds, and possessing this license allows you to operate vehicles in Class B, C, and D categories.
Class B License - This class includes single or combination vehicles where the GVWR exceeds 26,000 pounds. Vehicles in tow must not exceed 10,000 pounds, however. Class B license holders may drive all Class C or D vehicles as well.
Class C License - If a vehicle is designed to transport 16 or more passengers (including the driver), are marked for hazardous materials, or do not meet the criteria for Class A or B licenses, then the Class C license is perfect for you.
If you are looking to operate a school bus to carry fewer than 16 occupants, you do not need to obtain your CDL. You will need to take the commercial driver and school bus tests, however, to obtain the school bus endorsement.
CDL driver's licenses do not apply to: operators of emergency vehicles; active military personnel operating military vehicles; or farm vehicles used by farmers, those used to move farm goods, or for transport within 150 miles of the farm.
Knowledge and Skills Tests
When applying for your commercial driver's license, you will have to take one or more knowledge test(s), depending on what class and license endorsements you need. It is important to note that you can only take the CDL knowledge exam once per business day. If you happen to fail the exam, you must pay a $2 re-examination fee. For this reason, we recommend that you prepare in advance with our online courses.
To receive your commercial driver's license, you will be required to complete the following skills tests in addition to the relevant knowledge exams:
Pre-trip Vehicle Inspection - During your pre-trip vehicle inspection, you will be tested to see whether you know your vehicle is safe to drive or not. After this is completed, you will then need to explain to your reasoning to your examiner.
Basic Vehicle Control - Here your ability to safely control your vehicle will be examined. You will be requested to move your vehicle forward, backward, and turn it within a defined area.
On-road Test - Perhaps the most important aspect of operating a commercial vehicle is being able to safely maneuver it in traffic. This is why the examiner will test your ability to do so during this section.
Information and Necessary Documents
In order to obtain your Virginia CDL, you must be at least 18 years old or older. Under federal law, you must be at least 21 years old to: drive across state lines, transport hazardous materials, or transport interstate freight (within the state).
If you are under the age of 21, you may be issued a CDL with an "L" restriction. This restriction indicates that driving privileges are valid only in Virginia.
When you apply for a CDL or instruction permit, you need to present two forms of identity (if you are under the age of 19).
Some of the following links can prove helpful for this course:
Virginia ID and Required Documents
Driver's License Info on Virginia's Official DMV website
Virginia Driver's Manual

Federal Requirements for a CDL
Medical Requirements for a CDL
Enroll in one of our comprehensive course today!
When you become involved in our Virginia CDL practice test course, you are taking advantage of the comprehensive benefits laid out before you. So go ahead, enroll today - we can guarantee that you will be satisfied with the results!