Rhode Island CDL Test Requirements and Endorsements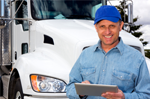 Learn about the different types of CDLs
Find out what skills you need to possess
Discover the various requirements to meet
How to Obtain a CDL
If you're in the State of Rhode Island, let us help you earn your Rhode Island commercial driver's license. We've put together various resources to ensure you enter the DMV fully prepared and ready to achieve greatness. With our help, you'll tackle the knowledge and skills tests in no time.
details
Sign Up Now - Instant Access
Do You Need a CDL?
If you plan on operating any type of commercial vehicle in the State of Rhode Island, then you legally need to earn a Rhode Island commercial driver's license. Endorsements will be needed for double/triple trailers, tanker vehicles, passenger vehicles, and vehicles placarded for hazardous materials.
Class A License - Obtain this license to legally operate combination vehicles that have a Gross Combination Weight Rating (GCWR) exceeding 26,000 pounds, but only if the Gross Vehicle Weight Rating (GVWR) of the vehicle being towed exceeds 10,000 pounds.
Class B License - This license is needed for drivers who want to operate a single or combination vehicle where the GVWR of the single vehicle exceeds 26,000 pounds. The vehicle being towed cannot exceed 10,000 pounds.
Class C License - This license is needed to legally operate a vehicle that is designed to transport 16 or more people, including the driver, as well as vehicles placarded for hazardous materials that don't meet the above criteria.
CDL Skills Test
After you've successfully passed a knowledge test, you will be permitted to participate in a skills test. For specific information regarding this test, call (401) 825-1146. During this time, you will be judged on the following: pre-trip inspection, basic vehicle control, and on-road driving.
Pre-Trip Vehicle Inspection - You will need to know if your vehicle is safe to drive. You will have to do an inspection, as well as explain what you're doing and why.
Basic Vehicle Control - Do you have the proper skills to control your vehicle? You will need to be able to move your vehicle forward, backward, and turn it within a defined area.
On-Road Test - You must be able to drive safely in various traffic situations, including: left and right turns, intersections, up and down grades, highways, and more.
More CDL Requirements
Before you can earn a CDL, you must be 21 years old and have held a regular Rhode Island driver's license for at least two years. You will also need to pass a physical exam every two years, in which your hearing and vision will be tested. Drivers are not permitted to be colorblind.
DMV Documents
You only need to make one trip to the local DMV. You will need to the following items: a current driver's license, a Department of Transportation Physical Examination Form, and a social security card.
Rhode Island ID and Required Documents

Fees to Pay
For a current list of CDL fees, please visit the Rhode Island DMV.
Driver's License Info on Rhode Island's Official DMV website
More CDL Information
Rhode Island CDL Manual: Rhode Island CDL Driver's Handbook

For Federal Requirements for a CDL: http://www.fmcsa.dot.gov/registration-licensing/cdl/cdl.htm
For Medical Requirements for a CDL: http://www.fmcsa.dot.gov/rules-regulations/administration/medical.htm