Ohio CDL Test Requirements and Endorsement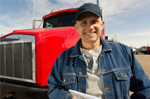 Meet Your License Classifications and ID Requirements
Aids in Preparation for the CDL Exam
Obtain Your CDL Endorsement for Certain Vehicle Types
How to Obtain Your Commercial Driver's License
Prior to obtaining your Ohio CDL, you will have to take one or more knowledge tests. Regardless of what license class and endorsements you need, all applicants must take a general knowledge test as well.
Available CDL Courses
After you enroll in our Ohio CDL practice test course, you will be further introduced to the following individual topics: tankers, combination vehicles, passenger transport, pre-trip inspection, school bus, doubles/triples, hazardous materials, and general knowledge.
Take a FREE CDL Practice Test
details
Sign Up Now - Instant Access
When do I need a CDL in Ohio?
To drive a commercial vehicle (Class A, B, or C) in the State of Ohio, you must obtain an Ohio CDL. Additional endorsements are also necessary when operating double/triple trailers, passenger vehicles, and vehicles that are marked for the transportation of hazardous materials.
Class A License - This specific classification applies wholly to "combination" vehicles with a Gross Combination Weight Rating (GCWR) exceeding 26,000 pounds. Additionally, the Gross Vehicle Weight Rating (GVWR) of the vehicle being towed exceeds 10,000 pounds. If you possess a Class A license, you may operate Class B, C, and D vehicles.
Class B License - Our Class B licensing course is necessary if you plan to operate either: 1. a single vehicle where the GVWR exceeds 26,000 pounds; or 2. a combination vehicle where the trailer is under 10,000 pounds. If you are a Class B licensee, you may also drive all vehicles in Class C or D.
Class C License - If a vehicle is marked to carry hazardous materials, designed to carry 16 or more passengers (including the driver), or do not meet criteria for Class A, B, or D vehicles, then a Class C CDL is required.
Ohio state law excludes the following categories for the CDL: farm trucks, fire equipment, a public safety vehicle, recreational vehicles, and a vehicle that is operated for non-business purposes.
Knowledge Test
To obtain your Ohio commercial driver's license (CDL), you will have to take one or more knowledge tests (depending on what class and endorsements you need). Also, a CDIP (CDL Instruction Permit) can be issued to those who hold a valid automobile or classified driver's license. This permit is valid for six months and cannot be renewed - a new permit must be purchased, and the vision and knowledge tests must be re-taken.
Skills Test
After passing the required knowledge test(s), you then may take the CDL skills tests. The three types of general skills tests are: pre-trip inspection, basic vehicle control, and on-road driving. When you take the test, it is necessary to provide your own vehicle in the class of the license you apply for, including the bus (designed to carry 16 or more persons including the driver). Typically, this vehicle can be provided through a potential employer.
Pre-trip Vehicle Inspection - During this segment, you will be asked to do a pre-trip inspection of the vehicle. Once you have completed this task, you must explain your reasoning to the examiner on the road worthiness of your vehicle.
Basic Vehicle Control - A major aspect of operating a commercial vehicle is your skill to control the vehicle. The examiner will have your will then ask you to move the vehicle in accordance with the instructor's direction.
On-road Test - This segment will test your ability to safely maneuver through local traffic, with your examiner observing your operational skills.
What Are The Other Requirements For A CDL?
To get a CDL or CDL instruction permit (CDIP) you are required to be at least 18 years of age and have a valid Ohio State driver's license.
Federal Motor Carrier Safety Regulations require drivers to pass a physical examination once every 2 years. The main physical requirements include good hearing, 20/40 vision with or without glasses or corrective lenses, and a 70-degree field of vision in each eye. Drivers must not be colorblind.
Fees and Further Information
When obtaining your CDL, you will need to pay the necessary fees: $10 for the pre-trip inspection portion of the test, $10 for the off-road maneuvering portion, and $30 for the on-road portion of the test. Your first CDL license fee will cost $42, and the CDIP fee is $27.
The following links will prove helpful as well:
Ohio ID and Required Documents
Driver's License Info on Ohio's Official DMV website
Ohio CDL Manual: Federal Requirements for a CDL

http://www.fmcsa.dot.gov/registration-licensing/cdl/cdl.htm
Medical Requirements for a CDL
Enroll in your comprehensive course today!
Becoming involved in our Ohio CDL practice test course is perfect to fulfill all of your CDL needs! Step-by-step, our course walks you the process to complete your individual class licensing.