North Dakota CDL Test Requirements and Endorsement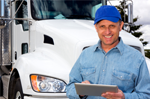 Course Helps You to Prepare for the CDL Exam
Obtain Your CDL Endorsement to Your Vehicle Type
Learn License Classifications and ID Requirements
How to Obtain Your CDL
If you are looking to take one (or more) knowledge test(s), you can enroll in our North Dakota CDL practice test course to help you obtain your license class and endorsements. These courses will prepare you for the required general knowledge test.
Available CDL Courses
The following individual courses are available for your reference: general knowledge, air brakes, tankers, doubles/triples, hazardous materials, school bus, passenger transport, pre-trip inspection, tankers, and combination vehicles.
Take a FREE CDL Practice Test
details
Sign Up Now - Instant Access
When do I need a driver's license in North Dakota?
Residents of North Dakota that drive a Class A, B, or C commercial vehicle must possess a CDL. Additional endorsements are further required for double/triple trailers, tanker vehicles, passenger vehicles, and vehicles marked for the transport of hazardous materials.
Class A License - This specific classification applies to "combination" vehicles with a Gross Combination Weight Rating (GCWR) that exceeds 26,000 pounds, including a towed vehicle 10,000 pounds or heavier. When you possess this license, you may operate all vehicles encompassed in Class B, C, and D.
Class B License - A Class B license includes single or combination vehicles where the GVWR of the vehicle exceeds 26,000 pounds. The vehicle in tow may not exceed 10,000 pounds, however. With the appropriate Class B endorsements, you may drive Class C or D vehicles as well.
Class C License - With a Class C commercial driver's license, you can operate passenger vans, single vehicles under 26,000 pounds in weight, passenger cars, and similar.
North Dakota CDL Skills Tests
Before you can obtain your North Dakota commercial driver's license (CDL), you will be required to take and complete a general knowledge test, as well as a range of skills tests. These practical skills tests are as follows:
Pre-trip Inspection - During the pre-trip inspection, you will be tasked with thoroughly inspecting every component of your vehicle to determine its road worthiness.
Basic Skills Test - Before you are able to take your road test, you must demonstrate that you can safely operate your commercial vehicle under controlled conditions. This test, which is particularly important for individuals driving combination vehicles, tasks you with reversing, driving forward, and turning within a restricted area.
Road Test - The final phase of your skills test is an on-road exam. During this test, you will drive on the road with a licensed instructor in the passenger seat. If you can demonstrate that you are able to safely operate your vehicle, you will receive a passing grade.
Further Information
You must be at least 18 years of age or older to obtain your North Dakota CDL. If you are looking to pursue an interstate driving certification, then you must be at least 21 years old (or older). In order to meet the recommendations of Federal Motor Carrier Safety Regulations, it is required that you pass a physical exam once every two years.
Prior to heading to the North Dakota DMV Office, you need to make sure that you have your physical exam form, social security card, and driver's license.
North Dakota ID and Required Documents
Driver's License Info on North Dakota's Official DMV website
North Dakota CDL Manual

Federal Requirements for a CDL
Federal Requirements for a CDL
Enroll in our comprehensive course today!
By enrolling in our comprehensive course today, you have the tremendous ability to prepare for your CDL classifications. So go ahead, enroll in our North Dakota CDL practice test course today - we guarantee that you will be happy we did!