North Carolina CDL Test Requirements and Endorsement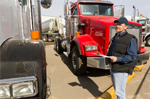 License Classifications and ID Requirements
Aids in Preparation for the CDL Exam
Specific CDL Endorsement by Vehicle Type
How To Get your Commercial Driver's License
CDL drivers will have to take one or more knowledge tests, depending on what License Class and Endorsements you need. All CDL applicants must take the General Knowledge Test.
Select your Vehicle Type below to tell you any additional tests you must take:
Available CDL Courses
When you enroll in our North Carolina CDL practice test course, you are introduced to the following subjects: tankers, air brakes, pre-trip inspection, passenger transport, school bus, doubles/triples, hazardous materials, pre-trip inspection, general knowledge, and combination vehicles.
Take a FREE CDL Practice Test
details
Sign Up Now - Instant Access
When do I need a CDL in North Carolina?
If you currently live in the State of North Carolina and drive a Class A, B, or C commercial vehicle, you must possess a CDL. Additional endorsements are also required in addition to your CDL for double/triple trailers, tanker vehicles, passenger vehicles, and those marked for the transportation for hazardous materials. The commercial driver's license types are:
Class A License - This classification applies to "combination" vehicles with a Gross Combination Weight Rating (GCWR) exceeding 26,000 pounds. The Class A certification is required provided the Gross Vehicle Weight Rating (GVWR) of the towed vehicle exceeds 10,000 pounds.
Class B License - A Class B license is necessary when the GVWR of the single or combination vehicles exceed 26,000 pounds. The vehicles in tow, however, must not exceed 10,000 pounds.
Class C License - If a vehicle is designed to transport 16 or more passengers (including the driver), then a Class C license is necessary. If a vehicle is marked for the transport of hazardous materials, or does not meet the criteria for Class A or B, it falls into this category.
CDL Skills Tests
Once you have passed the required knowledge test(s), you can then take the CDL skills tests. The three types of general skills on which you will be tested include: pre-trip inspection, basic vehicle control, and on-road driving.
Pre-trip Vehicle Inspection - This will test your ability to determine whether your vehicle is safe to drive or not. The proctor will also ask you to perform a pre-trip inspection of your vehicle, after which you must explain why you did so.
Basic Vehicle Control - Perhaps the most important part of having your CDL is being able to operate your vehicle in the most basic sense. Here, you will be asked to move your vehicle forward, backward, and turn it within a defined area.
On-road Test - This section will examine your ability to safely drive your vehicle in any given traffic situation. The examiner will then direct you to turn, navigate intersections, railway crossing, up and down grades, and roads to complete your test.
Further Information
Prior to heading to the North Carolina DMV office, it is highly encouraged that you make sure to bring along your driver's license, a physical examination form, and your social security card.
North Carolina ID and Required Documents
Driver's License Info on North Carolina's Official DMV website
North Carolina CDL Driver's Handbook

Federal Requirements for a CDL
Medical Requirements for a CDL
Also, the following fees can be applicable: application fees, ($20), CDL fees ($10/year), or CDL Endorsements ($1.25/year).
Enroll in our comprehensive course today!
Here at Test Questions and Answers, we understand that obtaining your CDL can prove to be a rather difficult process. Our North Carolina CDL practice test course is fantastic at guiding you through the CDL process, so enroll today!