New York CDL Test Requirements and Endorsement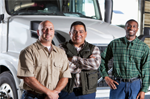 Obtain specific CDLs by Vehicle Type
Successfully Prepare for the CDL Exam
License Classifications and ID Requirements
How to Obtain Your New York CDL
To obtain your CDL, you must take one or more knowledge test(s), pertinent to what license class and endorsements that you will need.
Available CDL Courses
When you enroll in our New York CDL practice test course, you can become directly involved with the following individual courses: general knowledge, doubles/triples, air brakes, combination vehicles, tankers, passenger transport, pre-trip inspections, passenger transport, school bus, and hazardous materials.
Take a FREE CDL Practice Test
details
Sign Up Now - Instant Access
When do I need a CDL in New York?
If you are looking to operate a Class A, B, or C vehicle in New York for commercial purposes, then you must possess a CDL. Specific endorsements are further required for double/triple trailers, tanker vehicles, passenger vehicles, and vehicles marked for hazardous materials transport.
Class A License - This specific classification applies directly to "combination" vehicles with a Gross Combination Weight Rating (GCWR) exceeding 26,000 pounds. The vehicle being towed, however, must exceed 10,000 pounds; otherwise a Class B license will suffice.
Class B License - Our Class B course includes single or combination vehicles, especially where the GVWR exceeds 26,000 pounds. Opposed to the Class A license, with this endorsement the vehicle in tow must not exceed 10,000 pounds.
Class C License - If a vehicle is designed to transport 16 or more passengers (including the driver), is marked for the transport of hazardous materials, or does not meet Class A or B specifications, then the Class C license is right for you!
Further Information
In order to obtain your New York Class B or C license, you must be at least 18 years or older. To get your Class A License, however, you must be at least 21 years old. Additionally, Federal Motor Carrier Safety Regulations require that you pass a physical exam once every 2 years. Physical requirements include good hearing, 20/40 vision, and a 70-degree field of vision in each eye.
Some of the fees that are associated with the CDL are the application fee ($10) and a skills test fee ($40). These following links are quite helpful during the process of obtaining your CDL:
New York ID and Required Documents
Driver's License Info on New York's Official DMV website
New York CDL Driver's Handbook
Federal Requirements for a CDL
Medical Requirements for a CDL
Enroll in our comprehensive course today!
When you become involved in our New York CDL practice test course, you are taking advantage of a step-by-step process to obtain your CDL. Since this is the case, you should enroll in our comprehensive course today to reap the benefits!