New Mexico CDL Test Requirements and Endorsement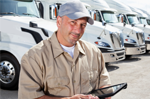 Perfect to Prepare for the CDL Exam
CDL Endorsements Corresponding to Vehicle Types
Available License Classifications and ID Requirements
How to Obtain a New Mexico CDL
All CDL applicants must take the General Knowledge Test, as well as take one or more knowledge tests relating to specific endorsements. This is heavily dependent on what license class endorsements you are looking to obtain, so be sure to determine what your needs are ahead of time.
Available CDL Courses
When you enroll in our New Mexico CDL practice test course, you will be introduced to several individual courses. These courses are broken down further into: general knowledge, air brakes, combination vehicles, doubles/triples, hazardous materials, school bus, passenger transport, pre-trip inspection, and tankers. You can choose which courses are best for you!
Take a FREE CDL Practice Test
details
Sign Up Now - Instant Access
When do I need a CDL?
If you are currently living in the State of New Mexico and drive a Class A, B or C commercial vehicle, you must possess a CDL. Endorsements are also required for double/triple trailers, tanker vehicles, hazardous materials being transported, and passenger vehicles.
Class A License - A Class A certification is necessary to drive "combination" vehicles with a Gross Combination Weight Rating (GCWR) exceeding 26,000 pounds. It must also be noted that the Gross Vehicle Weight Rating (GVWR) of the vehicle towed may not exceed 10,000 pounds.
Class B License - You will need to obtain a Class B endorsement for a single or combination vehicle where the GVWR of a single vehicle exceeds 26,000 pounds. You can also operate "combo" vehicles with a Class B license; however, the vehicle in tow must not exceed 10,000 pounds.
Class C License - If a vehicle is designated to carry 16 or more passengers (including the driver), as well as operating vehicles that are marked for hazardous material transport, then a Class C license is ultimately paramount.
Skills Test
Once you have successfully completed the required knowledge test(s), you can then take the CDL skills test(s). These are broken down into some of the following tests: pre-trip inspection, basic vehicle control, and on-road driving. It is necessary for you to provide a vehicle while taking the test - this vehicle must have a current inspection sticker, as well as current registration documents and current insurance card.
Pre-trip Vehicle Inspection - During this skills section, you will be examined as to whether or not you identify the individual components of your vehicle and determine their road worthiness. You will be asked to do a pre-trip inspection of your vehicle and explain to the examiner why you chose that path.
Basic Vehicle Control - This section will test your basic control of the vehicle. You will be asked to move the vehicle forward and backward, as well as turn it within a defined area.
On-road Test - A major part of your driving experience will be maneuvering in traffic. During this segment, you will perform basic operations throughout your assigned area. You will conduct your road test with a licensed instructor in the passenger seat.
If unfortunately you fail the CDL road test, it is required that you wait at least two weeks prior to re-taking the test. Failing several times, however, may result in you having to wait six months before doing so again.
Further Information
Prior to heading to the New Mexico DMV Office, please be certain that you have your driver's license, physical examination form, and social security card. Some of the following links may prove beneficial to improve your process:
New Mexico ID and Required Documents
Driver's License Info on New Mexico's Official DMV website
New Mexico CDL Driver's Handbook

http://www.fmcsa.dot.gov/registration-licensing/cdl/cdl.htm
http://www.fmcsa.dot.gov/rules-regulations/administration/medical.htm