Nebraska CDL Test Requirements and Endorsements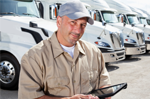 The skills required to obtain a CDL
What to expect at the DMV
The different courses you can take
Get a CDL Today
Could you benefit from having a Nebraska commercial driver's license? Legally, you may need to obtain one, depending on your specific situation. This guide will give you an inside look of what to expect at the DMV. Once you pass a knowledge test and a skills test, you'll be on your way.
details
Sign Up Now - Instant Access
You May Need a CDL
If you're going to operate a Class A, B, or C commercial vehicle, then you will definitely need a Nebraska commercial driver's license. Endorsements are also necessary for double/triple trailers, tanker vehicles, passenger vehicles, and vehicles placarded for hazardous materials. You will need a Nebraska CDL Endorsement to operate a vehicle in one of the following categories:
Class A License - This type of CDL will grant you access to operate combination vehicles with a Gross Combination Weight Rating (GCWR) exceeding 26,000 pounds, provided the Gross Vehicle Weight Rating (GVWR) of the vehicle being towed exceeds 10,000 pounds.
Class B License - This type of CDL is for single or combination vehicles where the GVWR of the single vehicle exceeds 26,000 pounds. The vehicle being towed cannot weigh more than 10,000 pounds.
Class C License - You will need this type of CDL if you plan on operating a vehicle designed to transport 16 or more passengers, including the driver, as well as vehicles placarded for hazardous materials that don't meet the above criteria.
CDL Skills Test
Once you successfully complete a knowledge test, you will then be allowed to participate in a skills test. This skills test will judge how well you do in the following areas: pre-trip inspection, basic vehicle control, and on-road driving. The skills test must be done in the type of vehicle you wish to be licensed to drive.
Pre-Trip Vehicle Inspection - You must know if your vehicle is safe to drive. You will have to explain what you're inspecting on the vehicle and why you're doing so.
Basic Vehicle Control - Your ability to control the vehicle will be tested. You will have to appropriately move the vehicle forward, backward, and turn it within a specified area.
On-Road Test - You will have to effectively drive your vehicle in a variety of traffic situations, including: left and right turns, intersections, railway crossing, curves, and more.
More CDL Requirements
Before you can obtain your CDL, you will have to successfully complete a few more requirements. First, you will have to pass a physical examination every two years. You must possess good hearing, 20/40 vision without glasses or corrective lenses, and a 70-degree field of vision in each eye. Drivers are not allowed to be colorblind.
DMV Preparation
Be prepared at the DMV. You will need to bring a current driver's license, a Department of Transportation Physical Examination Form, and your social security card.
DMV Fees
DMV fees may vary from county to county. If you would like to view a current list of CDL licensing and endorsement fees, please visit the Nebraska DMV.
Driver's License Info on Nebraska's Official DMV website
Learn Even More
Nebraska CDL Manual: Nebraska CDL Driver's Handbook

For Federal Requirements for a CDL: http://www.fmcsa.dot.gov/registration-licensing/cdl/cdl.htm
For Medical Requirements for a CDL: http://www.fmcsa.dot.gov/rules-regulations/administration/medical.htm