Minnesota CDL Test Requirements and Endorsements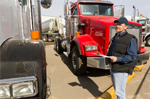 Find out what's on the skills test
Learn how to prepare for the exam
Become familiar with all of the requirements
Gaining a CDL
We want to help you gain a Minnesota commercial driver's license. Not only will you have to pass knowledge and skills tests, but there are also other requirements that will need to be met. You can use this guide to become familiar with the CDL process.
details
Sign Up Now - Instant Access
Do You Need a CDL?
To legally operate a Class A, B, or C commercial vehicle in the State of Minnesota, you will need a Minnesota commercial driver's license. Further CDL endorsements will be needed for operating double/triple trailers, tanker vehicles, passenger vehicles, and vehicles placarded for hazardous materials. If you plan to operate a commercial vehicle in one of the following classifications, you will need to earn a Minnesota CDL Endorsement:
Class A License - This license is used for the combination of vehicles with a Gross Combination Weight Rating (GCWR) that exceeds 26,000 pounds, as long as the Gross Vehicle Weight Rating (GVWR) of the vehicle being towed is more than 10,000 pounds.
Class B License - You will need this type of license to operate a single or combination vehicle when the GVWR of the single vehicle exceeds 26,000 pounds. The vehicle in tow cannot weigh more than 10,000 pounds.
Class C License - This license is needed to operate a vehicle designed to transport 16 or more passengers, including the driver, as well as vehicles placarded for hazardous materials that don't fall into the other two sections.
CDL Skills Test
If you pass the knowledge test, you will be permitted to pass the CDL skills test. There are three sections to this test: pre-trip inspection, basic vehicle control, and on-road driving. These tests must be taken in the vehicle you wish to be licensed to drive. A third party tester will conduct this test.
Pre-Trip Vehicle Inspection - You need to be aware if the vehicle in question is safe to drive. You will be asked to explain to the examiner what you would inspect and why.
Basic Vehicle Control - Your skills to control the vehicle will be tested. You will have to move the vehicle forward, backward, and turn it within a defined area.
On-Road Test - You will need to be able to drive your vehicle in range a traffic situations, including: highways, intersections, railway crossings, curves, and more.
More Requirements
In Minnesota, to apply for an intrastate CDL, you must be 18 years old. To apply for an interstate CDL, you must be 21 years old. You will also be ordered to pass a physical examination every two years. This examine will require good hearing, 20/40 vision, and a 70-degree field of vision in each eye. Drivers are not permitted to be colorblind.
Going to the DMV
The following documents will be needed at the DMV: current driver's license, a Department of Transportation Physical Examination Form, and a social security card. DMV fees may change, depending on the specific county you live in. For a list of current fees, visit the Minnesota DMV.
Driver's License Info on Kansas's Official DMV website
Where Can I Get More Information?
Minnesota CDL Manual: Download Minnesota CDL Driver's Handbook

For Federal Requirements for a CDL: http://www.fmcsa.dot.gov/registration-licensing/cdl/cdl.htm
For Medical Requirements for a CDL: http://www.fmcsa.dot.gov/rules-regulations/administration/medical.htm