Maryland CDL Test Requirements and Endorsements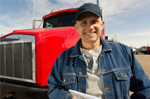 Multiple CDL Endorsement Guides
Available Online for Your Convenience
Comprehensive and User-friendly Resources
How To Get your Commercial Driver's License
CDL drivers will have to take one or more knowledge tests, depending on what License Class and Endorsements you need. All CDL applicants must take the General Knowledge Test.
Select your Vehicle Type below to tell you any additional tests you must take:
details
Sign Up Now - Instant Access
CDL Requirements - What You Need to Know
Earning your commercial driver's license requires an understanding of not only Maryland CDL test requirements, but also the types of endorsements that are available and which type of commercial license best suits your needs. Unlike a standard passenger license, which allows card holders to drive a variety of different vehicles, multiple commercial driver's license types can be issued. Each type is designed to provide a different degree of driving privileges and thus, each is suitable for a different type of vehicle. These license types are:
Class A - This license grants the card holder the right to operate combination vehicles (separate vehicle and trailer). The total combined vehicle weight can exceed 26,000 pounds and the gross vehicle weight rating (GVWR) of the trailer can exceed 10,000 pounds.
Class B - This license grants the card holder the right to operate single vehicles exceeding 26,000 pounds and combination vehicles with trailers that have a GVWR of under 10,000 pounds.
Class C - Any standard passenger vehicle that is used in a commercial manner can be driven with a commercial Class C license.
Earning Your Maryland Commercial License - The Prerequisites
The process for earning a commercial driver's license involves several steps, as driving a commercial vehicle involves much greater responsibility than a standard passenger car. In addition to a written knowledge exam - which will cover a variety of different subjects, including commercial driving laws, safe driving techniques, and other issues that specifically relate to commercial vehicles - several practical skills tests must be passed as well. These include:
Pre-trip Vehicle Inspection - Being able to properly inspect your vehicle before every trip is of the utmost importance; this test is modeled on such an exam and will gauge your knowledge your various vehicle components
Basic Control Test - Being able to perform basic maneuvers flawlessly, without difficulty, is vital. This test is particularly important for individuals who are seeking Class A and B licenses for combination vehicles.
Road Test - The final phase of the licensing process is an on-road test in real world situations. This test will be conducted to determine if you can safely operate a commercial vehicle on public roads, abide by all applicable road rules, and identify road signage related to trucking.
Understanding Maryland CDL test requirements will allow you to prepare more thoroughly for the licensing process. Don't risk failing these exams; take advantage of our online resources and give yourself the best chance of success.
What Fees Will I Have To Pay?
For current CDL licensing and endorsement fees visit the Maryland DMV:
Driver's License Info on Maryland's Official DMV website
Where Can I Get More Information?
Maryland CDL Manual: Download Maryland CDL Driver's Handbook

For Federal Requirements for a CDL: http://www.fmcsa.dot.gov/registration-licensing/cdl/cdl.htm
For Medical Requirements for a CDL: http://www.fmcsa.dot.gov/rules-regulations/administration/medical.htm