Maine CDL Test Requirements and Endorsements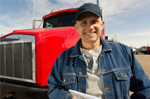 Practice Tests by Endorsement
Study Entirely Online
Incredibly Affordable and Effective
How To Get your Commercial Driver's License
CDL drivers will have to take one or more knowledge tests, depending on what License Class and Endorsements you need. All CDL applicants must take the General Knowledge Test.
Select your Vehicle Type below to tell you any additional tests you must take:
details
Sign Up Now - Instant Access
CDL Requirements - What You Need to Know
If you are in the process of earning your commercial driver's license, the first decision you'll need to make is which license type to pursue. Unlike a standard driver's license, which allows you to drive all passenger cars and trucks, commercial driver's licenses are broken into separate categories or classes. Each of these license types provides privileges that the previous license excludes. Understanding Maine CDL test requirements and endorsements will make the licensing process easier once the time comes to earn your certification.
The standard commercial driver's license types are:
Class A - The Class A license allows individuals to drive combination vehicles (commonly referred to as "combo" vehicles) with a trailer weight exceeding 10,000 pounds.
Class B - With the Class B license, individuals can drive single vehicles that exceed 26,000 pounds and combination vehicles with trailers under 10,000 pounds.
Class C - A standard Class C commercial license allows individuals to drive passengers vans and buses, shuttles, and passenger cars.
Each of the commercial license types listed above can be further supplemented with an additional endorsement. For example, a "passenger" endorsement is required in addition to a Class C commercial driver's license if an individual wishes to operate a taxi cab. If someone wishes to operate a tractor trailer, that person will need both a Class A license and an "air brakes" endorsement.
Earning Your Maine Commercial License - The Prerequisites
To earn your commercial driving privileges, you will need to demonstrate that you possess the necessary skill sets and knowledge. Before you can earn your CDL, you will be required to take and complete successfully a written knowledge test. Once this test has been completed, you will then take three separate skills examinations:
Pre-trip Vehicle Inspection - This test is designed to gauge your knowledge of the various components of the vehicle, and their road worthiness.
Basic Control Test - This test is especially important for individuals pursuing a combination vehicle license, and tests basic and fundamental controls such as reversing in a straight line and making controlled turns.
Road Test - This test is conducted with an instructor in the passenger seat and is designed to demonstrate your comfort and ability with maneuvering a commercial vehicle on public roads.
If you are looking for ways to gain behind-the-wheel experience for your practical skills test, there are a number of different options. You can enroll in a truck driving school or partner with a potential employer; the options are yours. Regardless, knowing the Maine CDL test requirements ahead of time will make earning your license that much easier!
What Fees Will I Have To Pay?
For current CDL licensing and endorsement fees visit the Maine DMV:
Driver's License Info on Maine's Official DMV website
Where Can I Get More Information?
Maine CDL Manual: Download Maine CDL Driver's Handbook

For Federal Requirements for a CDL: http://www.fmcsa.dot.gov/registration-licensing/cdl/cdl.htm
For Medical Requirements for a CDL: http://www.fmcsa.dot.gov/rules-regulations/administration/medical.htm