Louisiana CDL Test Requirements and Endorsements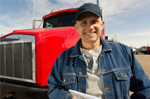 Multiple Courses to Choose From
Available Entirely Online
Accessible Across Mobile Devices
How To Get your Commercial Driver's License
CDL drivers will have to take one or more knowledge tests, depending on what License Class and Endorsements you need. All CDL applicants must take the General Knowledge Test.
Select your Vehicle Type below to tell you any additional tests you must take:
details
Sign Up Now - Instant Access
CDL Requirements - What You Need to Know
Before you can have an appreciation for Louisiana CDL test requirements and endorsements, you must know the basics. Which is: in order to operate a commercial vehicle, you must have a commercial license.
It is important to note, however, that there are multiple types of commercial licenses that can be issued. You must understand the differences between these licenses so that you know which is right for you. If you are applying for a job that requires a CDL or are interested in pursuing a career as a commercial driver, much of your career path will depend on which license type you have.
The standard commercial driver's license types are:
Class A - For combination vehicles (engine and trailer) exceeding 26,000 pounds with a total gross vehicle weight rating (GVWR) of 10,000 pounds or more for the trailer.
Class B - For single vehicles exceeding 26,000 pounds and combination vehicles that have a trailer with a GVWR of under 10,000 pounds.
Class C - For standard production vehicles, shuttles, passenger buses, and taxi cabs.
These commercial driver's licenses provide a different level of driving privileges. In order to maximize your privileges, it might be necessary to earn additional endorsements on top of your CDL. Examples of CDL endorsements include hazardous waste, passenger, and air brakes. With our online guides, we can help you prepare for these tests.
Earning Your Louisiana Commercial License - The Prerequisites
If you pass the required knowledge test(s), you can take the CDL skills tests. There are three types of general skills that will be tested: pre-trip inspection, basic vehicle control, and on-road driving. You must take these tests in the type of vehicle for which you wish to be licensed.
Pre-trip Vehicle Inspection - Before you can hit the road, you must thoroughly inspect your vehicle to determine it is road worthy.
Basic Control Test - Particularly suited to combination vehicles, this test is designed to illustrate your mastery of basic vehicle controls, such as reversing in a straight line.
Road Test - As with a standard driver's license, you will need to drive on the road with an instructor before you can earn your license.
What Fees Will I Have To Pay?
For current CDL licensing and endorsement fees visit the Louisiana DMV:
Driver's License Info on Louisiana's Official DMV website
Where Can I Get More Information?
Louisiana CDL Manual: Download Louisiana CDL Driver's Handbook

For Federal Requirements for a CDL: http://www.fmcsa.dot.gov/registration-licensing/cdl/cdl.htm
For Medical Requirements for a CDL: http://www.fmcsa.dot.gov/rules-regulations/administration/medical.htm