Kentucky CDL Test Requirements and Endorsements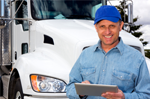 Choose Your CDL Course
Sign Up Online
Accessible on Mobile Devices
How To Get your Commercial Driver's License
CDL drivers will have to take one or more knowledge tests, depending on what License Class and Endorsements you need. All CDL applicants must take the General Knowledge Test.
Select your Vehicle Type below to tell you any additional tests you must take:
details
Sign Up Now - Instant Access
CDL Requirements - What You Need to Know
In order to drive a commercial vehicle in the State of Kentucky, you must possess a commercial driver's license (or CDL as it is commonly referred to). Understanding Kentucky CDL test requirements can make earning this license simpler and easier. Before you can get started, however, it is important that you possess a basic understanding of what a CDL is. The standard commercial driver's license types are:
Class A - With this license, drivers can operate tractor trailers and combination vehicles with trailer weights of 10,000 pounds and more.
Class B - With this license, drivers can operate tractor trailers and combination vehicles with trailer weights less than 10,000 pounds, as well as single vehicles with weights exceeding 26,000 pounds.
Class C - With this license, drivers can operate standard vehicles such as buses (excluding full-size buses), shuttles, and passenger cars.
In addition to the standard assortment of commercial driver's licenses, there are also a number of endorsements that can be earned. These CDL endorsements provide the licensee with additional driving privileges, such as being able to transport hazardous materials or passengers.
Earning Your Kentucky Commercial License - The Prerequisites
To demonstrate that you possess the required skill sets and knowledge needed to safely operate a commercial vehicle on public roads, you will need to take and pass a series of tests administered by the state. Kentucky CDL test requirements are similar to those found in every other state, and consist of a written knowledge exam and several skills tests. These practical skills tests include:
Pre-trip Vehicle Inspection - Before every trip in a commercial vehicle, you should thoroughly inspect all components to ensure that the vehicle is road worthy. This test is designed to gauge your knowledge in prithis area.
Basic Control Test - Can you safely operate your vehicle in a controlled environment? This test, which consists of fundamental maneuvers such as reversing, moving forward, and making turns, is particularly relevant for vehicles with trailers.
Road Test - Before your commercial driver's license can be issued, you will have to demonstrate that you can safely operate your vehicle on the road, while abiding by all traffic laws.
As holding a commercial driver's license involves greater responsibility than a standard driver's license, you will need to demonstrate that you match healthy and safety criteria as well. While you are licensed, you will need to pass a physical examination every two years.
What Fees Will I Have To Pay?
For current CDL licensing and endorsement fees visit the Kentucky DMV:
Driver's License Info on Kentucky's Official DMV website
Where Can I Get More Information?
Kentucky CDL Manual: Download Kentucky CDL Driver's Handbook

For Federal Requirements for a CDL: http://www.fmcsa.dot.gov/registration-licensing/cdl/cdl.htm
For Medical Requirements for a CDL: http://www.fmcsa.dot.gov/rules-regulations/administration/medical.htm