Kansas CDL Test Requirements and Endorsements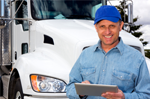 Multiple CDL Courses Available
Sign Up Instantly
Study Entirely Online
How To Get your Commercial Driver's License
CDL drivers will have to take one or more knowledge tests, depending on what License Class and Endorsements you need. All CDL applicants must take the General Knowledge Test.
Select your Vehicle Type below to tell you any additional tests you must take:
details
Sign Up Now - Instant Access
CDL Requirements - What You Need to Know
If you are considering earning your commercial license, it is important that you have an understanding of Kansas CDL test requirements and endorsement options - and that you know the basics! A commercial driver's license is required if you intend to operate any type of commercial vehicle. However, commercial vehicles range in size and complexity, so it is important to consider what type of commercial license you might need. The type of commercial license that permits you to drive a taxi cab, for example, does not permit you to drive an 18-wheeled tractor trailer.
The standard commercial licenses are as follows:
Class A - For combination vehicles with a gross combination weight rating (GCWR) exceeding 26,000 pounds and a gross vehicle weight rating (GVWR) of 10,000 pounds or greater for the vehicle being towed. Typical examples of vehicles requiring Class A licenses include tractor trailers.
Class B - This license covers both single vehicles and combination vehicles. However, in the case of "combo" vehicles, the trailer must not exceed 10,000 pounds in weight. Class B licenses are appropriate for bus drivers or tow truck drivers.
Class C - For standard automobiles, such as taxis, vans, shuttles, and buses.
In addition to the standard CDL classes, there are also a number of different endorsements that can be earned to provide additional driving privileges. After you have earned your commercial driver's license, you are encouraged to pursue these endorsements.
Earning Your Kansas Commercial License - The Prerequisites
Understanding Kansas CDL test requirements will allow you to more easily approach the licensing process. Before you can earn your commercial driver's license, you will be required to complete a written knowledge test covering road rules, road signage identification, safe driving techniques, and commercial driving laws. Once this component has been completed, you'll then be required to complete a series of skills tests:
Pre-trip Vehicle Inspection - During this test, you will be tasked with identifying various components of your vehicle and determining whether or not they are road worthy.
Basic Control Test - This portion of the exam tests your grasp of driving fundamentals: reversing, driving forward, making controlled turns, and maneuvering within a small area.
Road Test - As with a standard driver's license, you must demonstrate that you can safely operate a commercial vehicle on the road before you are able to earn your certification.
In addition to these requirements, you will also need to pass a vision screening, undergo a physical examination (once every two years while you are licensed), and possess knowledge of laws as they specifically relate to commercial vehicle operation. It is important to note that commercial vehicles are federally regulated in addition to state-regulated.
What Fees Will I Have To Pay?
For current CDL licensing and endorsement fees visit the Kansas DMV:
Driver's License Info on Kansas's Official DMV website
Where Can I Get More Information?
Kansas CDL Manual: Kansas CDL Driver's Handbook

For Federal Requirements for a CDL: http://www.fmcsa.dot.gov/registration-licensing/cdl/cdl.htm
For Medical Requirements for a CDL: http://www.fmcsa.dot.gov/rules-regulations/administration/medical.htm