Iowa CDL Test Requirements and Endorsement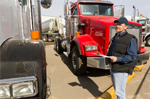 Commercial Driver's License Endorsements by Vehicle
Properly prepare for the CDL Exam
Specific Requirements and Classifications
Obtaining Your CDL
Drivers must ultimately take one or more knowledge tests, which are dependent on which license class and endorsements they need. All applicants, however, must pass the general knowledge exam.
Available CDL Courses
Our Iowa CDL Practice Test Course is further broken down into the following areas: General Knowledge, Passenger Transport, Combination Vehicles, Doubles/Triples, School Bus, Passenger Transport, Air Brakes, Pre-trip Inspection, and Tankers.
Take a FREE CDL Practice Test
details
Sign Up Now - Instant Access
When Should I Have My CDL?
Driving a Class A, B, or C commercial vehicle in the State of Iowa requires that you possess a CDL. Endorsements are required for double/triple trailers, tanker vehicles, passenger vehicles, and vehicles marked for the transportation of hazardous materials.
Class A License - Applies to "combination" vehicles that maintain a Gross Combination Weight Rating (GCWR) exceeding 26,000 pounds. This, of course, is provided that the Gross Vehicle Weight Rating (GVWR) of the vehicle being towed exceeds 10,000 pounds. An owner of a Class A license may operate all vehicles with a Class, B, C, or D classification.
Class B License - A class B license is inclusive to single and combination vehicles with a GVWR exceeding 26,000 pounds. Vehicles in tow, however, may not exceed 10,000 pounds, and drivers who possess this classification may also operate vehicles in Classes D or C.
Class C License - If a vehicle is designed to carry 16 or more passengers (with the driver included), and said vehicle has been marked for hazardous materials transport, they will need this license. Other commercial vehicles fall under this license as well (taxi cabs, for example).
Skills Test
After you have passed the required knowledge test(s), you then have the ability to take the CDL skills tests. The three categories of skills tests are: pre-trip inspection, basic vehicle control, and on-road knowledge.
Pre-trip Inspection - During the pre-trip inspection, you will be examined on whether your vehicle is safe to operate. You will also have to explain to the proctor as to why you came to that conclusion.
Basic Vehicle Control - As the title may suggest, this section focuses on your ability to control the vehicle. Here you will be asked to move your vehicle forwards and backwards, as well as turn it within a defined area.
On-road test - Driving in congested traffic is a huge aspect of your daily operation, so this will test your skill to safely drive your vehicle in a variety of traffic situations.
Further Requirements and Fees
In order to apply for the CDL, you must be 18 years or older. Physically, you must have good hearing, 20/40 vision with or without glasses or corrective lenses, as well as a 70-degree field of vision in each eye.
CDL fees are minimal, but are as follows:
$16 for a two-year CDL
$40 for a five-year CDL
Applicable endorsement or restrictions fees (where necessary)
The following links are highly beneficial resources:
Enroll in our comprehensive course today!
Our Iowa CDL Practice Test Course is ideal to help you in pursuit of your specified needs! We can promise that if you pay close attention to the details of our course that you will ace your actual Iowa DMV exam!