Indiana CDL Test Requirements and Endorsement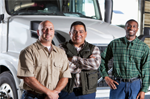 License Classifications and ID Requirements
CDL Endorsement by Vehicle Type
Correct Preparation for the CDL Exam
Obtaining your Commercial Driver's License
Drivers will have to take one (or more) knowledge tests, corresponding with what License Class and Endorsement they need.
Available CDL Courses
Our Indiana CDL Practice Test Couse will introduce you to the following individual courses: General Knowledge, Tankers, School Bus, Passenger Transport, Hazardous material, Doubles/Triples, Combination Vehicles, and Air Brakes.
Take a FREE CDL Practice Test
details
Sign Up Now - Instant Access
When do I need a CDL in Indiana?
If you live in the State of Indiana, and are operating a Class A, B, or C commercial vehicle, then you must possess an Indiana CDL.
If you operate a commercial vehicle that falls under one of the following classifications, you must have a CDL:
Class A License - The Class A classification specifically applies to "combination" vehicles that have a Gross Combination Weight Rating (GCWR) exceeding 26,000 pounds. A further requirement for this classification is that the Gross Vehicle Weight Rating (GVWR) of the vehicle towed must exceed 10,000 pounds.
Class B License - This applies to either single or combination vehicles with a GVWR exceeding 26,000 pounds. All vehicles that are towed, however, cannot exceed 10,000 pounds.
Class C License - If a vehicle is designed to transport 16 passengers or more (including the driver), or marked for the transport of hazardous materials, this licensing classification is necessary. Vehicles that do not meet criteria for Class A or B also fall under this classification.
Skills Tests
Once you have passed the required knowledge test(s), you may then take the CDL skills tests. The three types of general skills necessary for this section are: pre-trip inspection, basic vehicle control, and on-road driving. You can take these tests depending on what classification you are looking for.
Pre-trip Inspection - Here you will be tested on your ability to decipher whether your vehicle is safe to operate. The instructor will ask you to perform a pre-trip inspection, as well as the reasoning behind what you completed.
Basic Vehicle Control - This section specifically examines your ability to control the vehicle. During this segment, you will be asked to move your vehicle forwards and backwards, as well as turn it within a defined area.
On-road Test - Driving in traffic is a major concern of everyday transport, so your on-road test will test your faculties while operating in congestion.
Further Requirements and Information
The Federal Motor Carrier Safety Regulations of Indiana require that all CDL operators pass a physical exam once every two years. Additionally, you must maintain good hearing, 20/40 vision, and a 70-degree field of vision in each eye.
When you head to the Indiana BMV, you should make sure that you have a valid IN driver's license and current CDL physical examination certification on hand.
If you are looking for further information, the following sites are also advantageous:
Enroll in our comprehensive practice test course today!
Here at Test Questions and Answers, we understand that obtaining your commercial license can often be a grueling process, and have designed our Indiana CDL Practice Test Course with you in mind! Through completing our course, it is certain that you will pass the actual Indiana BMV test on your first attempt!