Illinois CDL Test Requirements and Endorsement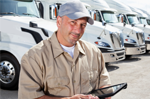 CDL Endorsement for certain Vehicle Types
How to Prepare for the CDL Exam
License Classifications and IL Requirements
Obtaining your Commercial Driver's License
CDL drivers in Illinois will take one or more knowledge tests, which are all relative to what license class and endorsements you are looking for. All applicants must take the General Knowledge Test, however, which our Illinois CDL practice test course can prepare you for!
Available CDL Courses
The following specified courses are designed to suit your needs: General Knowledge, Air Brakes, Combination Vehicles, Doubles/Triples, Hazardous Materials, School Bus, Passenger Transport, Pre-trip Inspection, and Tankers.
Take a FREE CDL Practice Test
details
Sign Up Now - Instant Access
When is a CDL necessary in Illinois?
If you live in Illinois, and drive a Class A, B, or C commercial vehicle, you must possess an Illinois CDL. Commercial licenses, in addition to certain endorsements, are required for double/triple trailers, tankers, passenger vehicles, and vehicles marked for hazardous materials.
To drive commercial vehicles that fall into one of the following classifications, you must possess an Illinois CDL:
Class A License - This classification applies only to "combination" vehicles with a Gross Combination Weight Rating (GCWR) exceeding 26,000 pounds, provided that the Gross Vehicle Weight Rating (GVWR) of the vehicle being towed exceeds 10,000 pounds.
Class B License - A Class B endorsement is necessary for vehicles where the GVWR of the single vehicle exceeds 26,000 pounds. Vehicles in tow may not exceed 10,000 pounds, however.
Class C License - Class C licensing is pertinent to vehicles designed to transport 16 or more passengers, including the driver, as well as vehicles marked for hazardous materials. These vehicles do not meet the criteria for Class A or B, and fall under this classification.
Farm-related Restricted CDL - This seasonally restricted CDL can be issued for a period between 90 and 180 days, in any one-year period, which is valid within 150 miles of the employer's place of business.
In accordance with state and federal law, some drivers are not subject to the requirements of the CDL program. Though some of the following vehicle operators are not required to obtain CDLs, they are required to hold proper driver's license classification for the type of vehicle that they are operating. This is required for Farm Operators, Fire Fighting Equipment Operators, Recreational Vehicle Operators, Military Vehicle Operators, and Township Employees.
Illinois CDL Knowledge Test
We highly encourage all truck drivers to study thoroughly for the written tests; for this will cut down on the time you stand in line at the DMV office and help ensure your success on test day. Online CDL tests are available that provide sample questions from the Illinois CDL exams.
The knowledge and individual endorsement tests will include::
The 30-question general knowledge test required for all applicants
Air brakes test required if the vehicle test is required to drive combination vehicles
20-question doubles/triple endorsement test required if you operate these trailers
The tank endorsement test is required to drive a vehicle with a liquid storage tank.
A hazardous materials test is required for marked vehicles. On this test, there are 30 questions, and you must complete the endorsement test every time you renew your CDL.
A passenger endorsement test is required to drive a vehicle for 16 or more passengers, of which there are 20 questions.
CDL Skills Tests
Once you have passed the written tests, applicants are required to successfully complete the CDL skills tests consisting of a vehicle pre-trip inspection test, basic vehicle control test, and on-road test. All three tests are necessary in order to receive your license.
During the Pre-trip Vehicle Inspection, you will be tested to see if you know whether you vehicle is safe to drive. During this segment, you will be asked to do a pre-trip inspection of your vehicle and explain why you believe the vehicle is safe to do so. The Basic Vehicle Control test will test you on your skill in controlling the vehicle. This segment will require you to move your vehicle forward, backward, and turn it within a defined area. Lastly, our On-road Test will test your skill level in safely driving through traffic.
Documents and Other Requirements
You must be 18 years old to acquire a CDL license to drive in-state, and 21 or older to cross state lines. Physical requirements include fine hearing, 20/40 vision with or without corrective lenses, and a 70-degree field of vision.
You must also take your current driver's license and social security card when you apply. When you go to the skills tester after you pass the written tests, you will need to bring along identification, proof of insurance, and your receipts showing that you have passed both written tests and paid the necessary skills tests fees.
Illinois ID and Required Documents
Fees and Further Information
New applicants (that do not possess a Class A, B, or C CDL) - $60.
An additional $5 fee will be added for applicants renewing an L or M license
To add or change an endorsement or restriction on CDL - $5.
Enroll in our comprehensive course today!
When you enroll in our Illinois CDL practice test, you are walked step-by-step through the licensing process. We promise that you will ace your actual exam on your first attempt!