How to Get a Commercial Driver's License (CDL)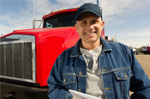 CDL Endorsement by Vehicle Type
How to Prepare for your CDL Exam
License Classifications and Requirements
Available CDL Courses
Individual Courses:
details
Sign Up Now - Instant Access
What is a Commercial Drivers License - CDL?
If you aspire to become a truck driver and enter the transportation industry, there are many obligations that you must fulfill.
FIRST: It is mandatory by most truck companies that you must be at least 21 years of age for interstate driving or 18 years of age for intrastate driving (within the boundaries of the state you are driving in).
REQUIREMENTS: You are required to appear for the DOT (Department of Transportation) physical exam, a drug test screening test, and you also must produce a valid drivers license issued in the state in which you live. However, the most important document or identification requirement for commercial driving is the CDL or the Commercial Drivers License. If this permit is not with you, you are not, by law, eligible to drive trucks of more than 26,000 pounds hauling capacity.
When you get a CDL test is categorized into two sections:
General Knowledge Test - $29.95
The first part, which is the general knowledge test, includes relevant subjects like air brakes, cargo vehicles, endorsements, passenger vehicles, combination vehicles, tank vehicles, endorsements, school bus endorsement, and triples. Depending upon the license that you are pursuing, you are asked to appear for more than one knowledge test.
For example, you will have to appear for the Hazardous Materials Knowledge test if you want to tow hazardous or waste materials, wherein you have to post a signboard to notify the public. Likewise, you will have to appear for the Air Brakes Knowledge Test if your vehicle has air brakes.
Once you pass the required knowledge test, you can take the CDL skills test or the Road Driving Test. There are three parts to the CDL skills test:
pre-trip inspection
basic vehicle control
on-road driving
You are required to take these three tests according to the type of vehicle you wish to be licensed for.
CDL Practice Test Information
If you plan on becoming a licensed commercial driver and need to take your CDL test soon, you'll want to start studying now. Last year alone there were more than 50,000 failures in some of the states. However, the real reason for failure is a lack of preparation and managing of time for study.
To pass the test, the first step to take is establishing a learning schedule to make the most of your study time. A good tip is to study an hour before work and then one hour after work. The best time to study is in the morning after you wake up, when your mind is fresh. Later, whenever you get time in the afternoon, you can review what you had learned in the morning. As long as you are dedicated and practice what you have learned, things will not be difficult. You can also practice the CDL test online with a prep course. Consider it an online study guide that will give you sample questions for the test and the areas you need to review.