How to get your Commercial Driver's License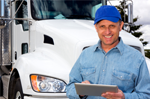 CDL Endorsement by Vehicle Type
How to Prepare for the CDL Exam
License Classifications and ID Requirements
How To Get your Commercial Driver's License
With this comprehensive Hawaii CDL practice test course, you will have to take one or more knowledge tests. Whether you are looking to receive a particular license class or endorsements, this course will aid you to ace your actual DMV exam!
Available CDL Courses
You do not only have to take a singular course, but will be able to take: general knowledge, air brakes, combination vehicles, doubles/triples, hazardous materials, school bus, passenger transport, pre-trip inspection, and tanker courses.
Take a FREE CDL Practice Test
details
Sign Up Now - Instant Access
Do I Need a Commercial Driver License in Hawaii?
To drive a Class A, B, or C commercial vehicle, you must have a Hawaii Commercial Driver's License (CDL). These types of licenses (as well as whichever endorsements may be required) are necessary when operating double/triple trailers, passenger vehicles, vehicles marked for hazardous materials, and tanker vehicles.
So what is the difference between various classes of CDLs?
Class A License - This is required when Gross Combination Weight Rating (GCWR) exceeds 26,000 pounds (and provided that the vehicle being towed weighs more than 10,000 pounds).
Class B License - This class is deemed necessary when the vehicle being towed does not exceed 10,000 pounds, or the single vehicle exceeds 26,000.
Class C License - If a vehicle is placarded for hazardous materials, transports 16 or more passengers (including driver), and does not meet the criteria for Class A or B licensing, then this form is right up your alley!
You do NOT, however, need a CDL if you are an individual who is operating motor homes or vehicles transporting personal effects for non-business-related purposes. Also, if you work on federal, state, and county firefighter or police operating authority emergency vehicles; are active duty military; or maintain a military license operating military vehicles, then you do not require a CDL.
Hawaii CDL Skills Test
Our course imparts you with the knowledge and skills necessary to receive your classification. You must study the areas of the pre-trip vehicle inspection, basic vehicle control, and your on-road test to successfully acquire your license.
Additionally, Federal Motor Carrier Regulations necessitate that drivers pass a physical examination once every two years. When you go to take you CDL classification, you should be sure to bring along your birth certificate, DOT physical exam form, a passport-friendly photo, as well as your social security card.
Resource Links
Enroll in our comprehensive course today!
When you enroll in our Hawaii CDL practice test course, you will be introduced to the necessary steps and information required to get your CDL. The sooner you enroll, the better - with this course, we can guarantee your success!