Connecticut CDL Test Requirements and Endorsements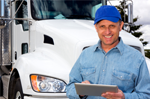 The appropriate documents for the DMV
The different types of commercial driver's licenses
Specific requirements needed to obtain a CDL
Get a CDL Today
Before you can successfully obtain a Connecticut commercial driver's license, you will need to pass various tests regarding your commercial vehicle knowledge and skills. This guide is meant to help you become familiar with the numerous phases you'll need to achieve in order to complete the process.
details
Sign Up Now - Instant Access
You May Need a CDL
If you want to operate a Class A, B, or C vehicle, then you will most definitely need to earn a Connecticut commercial driver's license. Endorsements will also need to be earned for the purpose of double/triple trailers, tanker vehicles, passenger vehicles, and vehicles placarded for hazardous materials. Take a look at your options:
Class A License - This license is needed for operating any combination of vehicles with a Gross Combination Weight Rating (GCWR) of 26,001 or more pounds, but only if the Gross Vehicle Weight Rating (GVWR) of the vehicle being towed is in excess of 10,000 pounds.
Class B License - Obtain this license to operate any single vehicle with a GVWR of 26,001 or more pounds, as well as to use one vehicle to tow another of no more than 10,000 pounds.
Class C License - This license will allow you to operate a vehicle designed to transport 16 or more passengers, including the driver, as well as vehicles placarded for hazardous materials that do not fall into the previous classes.
Knowledge and Skills Tests
You will first need to successfully complete a knowledge test. After you've finished and passed this assessment consisting of 30 questions, you will be permitted to take the skills test. This test must be taken in the vehicle in which you wish to obtain a license for. The skills test will consist of the following:
Pre-Trip Inspection
Static Course
On-Road Test
Failure of any part of the skills test will result in a failure of the entire skills tests. If you do fail, you will have to wait at least seven days before you can take the test again.
Further Requirements
There are other requirements that must be met, including:
You must be at least 18 years old
You must be at least 21 years old to haul hazardous materials
You must be at least 21 years old to drive interstate
You must carry a medical certificate stating you meet the federally mandated minimum physical requirements necessary to operate such motor vehicles
Physical requirements include having good hearing, 20/40 vision, and a 70-degree field of vision in each eye. You must not be colorblind.
Documents for the DMV
Before you travel to the DMV, you will want to make sure you have the following documents:
Your Connecticut driver's license
Your social security card
Your physical examination by a medical examiner
Be prepared to complete the Application for Commercial Driver's License
Connecticut ID and Required Documents
The Fees
Fees will change according to which Connecticut county you currently reside in. For a list of fees, visit or call the Connecticut DMV.
Driver's License Info on Connecticut's Official DMV website
Get More Information
Connecticut CDL Manual: Download Connecticut CDL Driver's Handbook

For Federal Requirements for a CDL: http://www.fmcsa.dot.gov/registration-licensing/cdl/cdl.htm
For Medical Requirements for a CDL: http://www.fmcsa.dot.gov/rules-regulations/administration/medical.htm