California CDL Test Requirements and Endorsements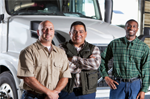 A list of courses to enroll in
Reasons to obtain a CDL
Requirements to secure a CDL
Getting a CDL
Before you can earn a California commercial driver's license, you will need to take various tests regarding knowledge and skills. The type of license and endorsement you wish to obtain will influence the test or tests you'll be required to pass. We will help to educate you on this process.
details
Sign Up Now - Instant Access
Do You Need a CDL?
If you wish to drive a Class A, B, or C commercial vehicle, then you will need to earn a California commercial driver's license. Further endorsements will be needed for double/triple trailers, tanker vehicles, passenger vehicles, and vehicles placarded for hazardous materials. Obtaining a CDL is important for the following vehicles:
Has a gross vehicle weight rating (GVWR) of 26,001 pounds or more
Is designed, used, or maintained for carrying more than 10 passengers, including the driver
Tows a vehicle or trailer, which has a GVWR of 10,001 pounds or more
Transports hazardous materials, which requires placards
Tows any combination of two trailers or vehicle and trailer
Applying for a CDL and Passing the Tests
To apply for a CDL, you will need to complete the following steps:
Make an appointment at the DMV
Bring the type of vehicle for the class you want to drive
Pass a pre-trip inspection
Pass a skills and driving test
Once you pass the required knowledge test or tests, you will be allowed to take the skills test. During this test you will be judged on the following abilities: pre-trip inspection, basic vehicle control, and on-road driving.
Pre-Trip Vehicle Inspection - You need to know if your vehicle is safe to operate. You will have to explain what you're inspecting and why.
Basic Vehicle Control - You will need to know how to control your vehicle. You'll be instructed to move forward, backward, and turn within a specific area.
On-Road Test - It's important to be able to safely drive your vehicle in a variety of traffic situations. You may be asked to drive on streets, highways, and/or single or multi-lane roads.
More CDL Requirements
To obtain a CDL, you must be 21 years old and pass a physical examination every 2 years. During the examination, it's important to have good hearing, 20/40 vision with or without glasses or corrective lenses, and a 70-degree field of vision in each eye. You cannot be colorblind.
Going to the DMV
Make sure you only make one trip to the DMV. Bring the following items with you: a current driver's license, a Department of Transportation Physical Examination Form, proof of social security card, and proof of birth date and legal presence.
California ID and Required Documents
Fees
The county you currently live in will influence the fees you'll have to pay in order to obtain a CDL. For current pricing information, visit or call the California MVR.
Driver's License Info on California's Official DMV website
More Information
California CDL Manual: Download California CDL Driver's Handbook

For Federal Requirements for a CDL: http://www.fmcsa.dot.gov/registration-licensing/cdl/cdl.htm
For Medical Requirements for a CDL: http://www.fmcsa.dot.gov/rules-regulations/administration/medical.htm