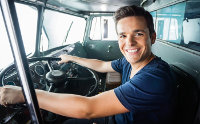 Select your state and vehicle type to display the correct course(s) for you.
Choose Endorsements that Apply to You!
Practice Tests for your CDL Exam
Current Total: $49.90
Start Now
CDL Practice Test
At Test Questions & Answers, we offer a number of different CDL practice tests. The practice test that you take advantage of will depend on your specific needs. If you already possess a commercial driver's license and are interested in obtaining an endorsement to further your driving career, we provide the option to purchase separate practice tests for individual endorsements; however, if you are currently in the process of earning your commercial driver's license, you can also take advantage of our CDL practice test value pack, which includes not only our general knowledge practice tests but our individual endorsement practice exams as well. Whichever option is right for you, our CDL study guides can help you pass the official state exam on your first try!
Enroll now to take advantage of these offers. The online registration process is quick and easy, and you'll be granted instant access to our practice tests. Regardless of which resource you choose, you can trust Test Questions & Answers to produce results.
How Our CDL Practice Tests Work
Our CDL practice tests contain questions on road rules, road signage, and CDL-specific concerns, such as trucking regulations. Each test consists of 20 random questions; each time that you log in or retake the test, you will be presented with a different set of questions so that you never take the same test twice. And with thousands of questions in our database, you likely won't see the same question twice either. Put simply, our practice tests are informative and helpful, and make terrific CDL study guides.
This is the Smart Way to Pass Your Exam!
The study process with our CDL practice tests is simple.
Log in
Complete a practice test
Repeat. After you successfully pass three practice tests, you are ready to get your CDL license.
Studying for your CDL test or endorsement exam is that simple! We have such confidence in our study guides that we guarantee results. If for any reason you fail your exam after studying with our CDL practice test, we will refund your money, no questions asked. You have nothing to lose!
Be On the Road in No Time! Enroll Now!
We have developed our CDL practice tests with the help of industry experts to be informative, accessible, easy to use, and perhaps most importantly, effective. We are confident that you will find them to be tremendously beneficial. Enroll today to take advantage of these resources!
Need Help Choosing an Endorsement?
Are you unsure of what endorsement you need? No worries! Simply fill out the fields below and we can tell you which endorsement is right for you. Each endorsement provides unique privileges and these endorsements are required if you wish to operate the specific type of vehicle covered. Do you need a tanker endorsement? How about a passenger endorsement? Check below.
5 FREE
DMV Test Sample
Questions
TRY NOW!
See what others are saying!


















I just wanted to tell you how pleased I am with your site. Your online CDL practice test questions are remarkable. To date, I've taken about nine practice exams and they are never quite the same. R.S., Lynchburg, VA
Great school bus endorsement practice course. I passed the test with a perfect score the first time. Thank you so much. Edward P., Sewedsboro, NC
I would like to thank you for your wonderful CDL practice test course. I passed the General Knowledge CDL test beautifully, with no problems. I.R., Gainesville, FL
Just wanted to say thank you; as you promised, I passed my CDL tests including all endorsements on the first try. My examiner said, "Boy, somebody studied! I am very impressed." I took eight tests all at once and passed them all with flying colors! Very well done - thanks again! R.H., Thomaston, GA
Thanks! I used your online CDL practice tests for my Class B CDL and passed after studying for just three days. B.S., Fairview, OR
Just wanted to say you are true professionals. I passed my written test on the first try. I previously paid money to a competitor who offered a course and test questions which were not helpful at all .I will certaintly recommend you to anyone seeking a CDL license Dale T., Craig, CO
I cleared the Knowledge test and the driving test this Monday and received the driving license. The online tests offered by you were very useful. P.K., Houston, TX
Your design is a refreshing, real-world approach to understanding and retaining the information I need to pass the most difficult of the CDL endorsements, such as the Hazmat test. Previously, I used your site to pass my Airbrake test with flying colors and this time around is no exception. A great experience and a product I'd highly recommend. Thanks for the commitment to quality! T.C., Detroit, MI
Due to your great site, I was able to pass my CDL test! I got six wrong out of 50! I have my Class C license in hand. I am going to go for other CDL endorsements. Thanks again for a wonderful CDL test preparation site and for helping me pass my test! C.S., Dallas, TX