Free DMV Practice Test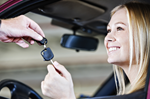 Take it for a free test drive
Review 5 sample questions here
100's of questions similar to those on the DMV test
details
FREE DMV Practice Test
Take these 5 sample questions
Sign Up Now - Instant Access
Driver's License Prep Course
When you start the course you will be given 20 random road rules and road sign questions selected from our database. The test questions change each time you log in. Correct answers are provided at the end of each question, along with detailed explanations.
Easy to use & easy to learn
Proven teaching methods
Avoid the 50% failure rate
Ace the tricky questions
Learn road rules & signs
When you have successfully taken and passed each test - both the road rules and road signs - at least five times, we guarantee you'll pass your driver's test the FIRST time at your local driver's license office or we will provide you with a full refund for the cost of the course!
Are you getting your drivers license for the first time? Prepare for the DMV Exam online! Don't spend hours studying the DMV Handbook when you can study online with our Guaranteed DMV Prep Course.
It's like having the answers BEFORE you take the DMV Exam!
Easily learn the answers to the Road Signs and Road Rules Tests, plus get detailed explanations.
Money-back guarantee
All applicants need to be familiar with Driver's Manual. Think you know the material?
Take our DMV practice test now and test your driving knowledge.
Start Now!!