Pass Your DMV Test the 1st Time - Guaranteed!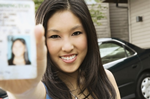 Double your Chances of Passing*
Free DMV Practice Tests
Available for All 50 States
Get Test Answers Today - Get Your License Tomorrow
details
*91% of students who completed our prep course passed the official DMV test the first time, according to the National Safety Commission, an authorized third party for state driver's license testing. Conversely, 50% of people who did NOT take our prep course FAILED the first time, according to data provided by state officials. Don't become a statistic for the 50% that fail. Sign up now for our fast and easy prep course for a driver's license or learner's permit, a motorcycle license, or a CDL license and avoid going to the DMV two or three times and waiting in long lines.
Driver's License Courses Available Nationwide
Welcome to the National Safety Commission's website dedicated to helping people successfully pass their driving tests online. Whether you're getting your Commercial Drivers License (CDL), your Learner's Permit, or your Motorcycle License, you've come to the right place... America's Driving Test Headquarters!
Start now, complete our driving tests online, and we guarantee you'll be prepared to pass your written Driver's License test, CDL test, or Motorcycle test on your first try or we'll refund your money.
Fun, easy, and interactive courses. Log in anytime!
Course approved by the National Safety Commission in every state.
Money-back guarantee. Complete our practice test course and you will pass your driver's license written exam your first time or we'll refund your money for the cost of the course!