See what others are saying!




















I just wanted to compliment you on the exceptional help provided to me by TestQuestionsAndAnswers, me a senior whose memory is not as sharp as it once was. I especially benefitted from your method of displaying the explanation whenever I answered the question incorrectly. That was a big help in burning the facts and logic into my brain. Thank you again for your help and I will Bookmark your web site and continue to recommend TestQuestionsAndAnswers to friends as I've been doing all along. Stu, Pacific Bach, CA
Just wanted to say you are true professionals. I passed my written test on the first try. I previously paid money to a competitor who offered a course and test questions which were not helpful at all .I will certaintly recommend you to anyone seeking a CDL license Dale T., Craig, CO
Due to your great site, I was able to pass my CDL test! I got six wrong out of 50! I have my Class C license in hand. I am going to go for other CDL endorsements. Thanks again for a wonderful CDL test preparation site and for helping me pass my test! C.S., Dallas, TX
I passed my motorcycle permit test with 100% accuracy thanks to this website! THANK YOU!! Jennifer G., Zimmerman, MN
I passed my Nevada drivers license test and appreciate the practice runs I was able to navigate on your web site. Very helpful. Steve D, Nevada
I can't put into words how much I want to thank you for this website! I passed my road rules and road signs DMV tests yesterday. Rebecca, Madison, WI
Thank you, Thank you Thank you. Failed miserably the first time, took your course, smoked it.Did not miss any. Was leary at first glance of your Course but this is one fantastic tool. Well worth the time and money. Thank you so much. Trust me folks, this will get you through it. Danny H., Timberlake, NC
I passed my Florida learner's permit test the first time! This is a great way to study. Many thanks for your excellent DMV permit tests. C.F., Williston, FL
Thanks again for a wonderful site and for helping me pass my motorcycle test! T.M., New York, NY
Yea!! I passed the test with 100%. This program was great. I worried for about 2 weeks while I was practicing the tests but when I went down to DMV I was so calm and confident. Thank you. Marie A, Pleasanton, CA
The sooner you pass, the sooner you can drive!
Practice Driving Tests and Prep Courses
At Test Questions and Answers, we are committed to helping individuals earn their driving privileges. In order to do so, we offer a number of different resources, each of which has been developed with the help of experts. If you are in the process of earning your license, our DMV practice tests and prep courses will help you familiarize yourself with the topics and test questions found on the state's official exams so that when the time comes, you are prepared and ready. Available in every state and for every license type, you can rest assured knowing that we have the tools you need to pass the test and hit the road. We encourage you to take advantage today!
Introducing Our Guarantee
If we didn't believe that our driver's aid resources were effective, we wouldn't offer them to you. We have such confidence in our practice driving tests and prep courses that we offer a 100 percent pass guarantee. If for any reason you fail your learner's permit or driver's license test after studying with our practice exams, we will refund your money for the cost of the program, no questions asked. We may be biased, but we tend to think that you have everything to gain and nothing to lose, so enroll today in the course that's right for you!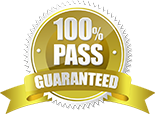 Details
Learner Permit & Driver License
Practice Tests & Prep Course
For Signs & Road Rules Test
Avoid the 50% Failure Rate
Ace the Tricky Questions
Get the Answers Now
Motorcycle License
Practice Tests & Prep Course
For Motorcycle Tests
Avoid the 50% Failure Rate
Class M1, M2 & C
Get the Answers Now
Commercial License (CDL)
Practice Tests & Prep Course
For CDL Tests
Truck Driver & Bus Drivers
Includes All CDL Endorsements
Get the Answers Now