Free Motorcycle Practice Test
Free Motorcycle License Practice Test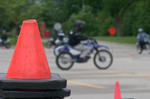 Test your motorcycle safety knowledge
Review 5 sample questions here
Over 600 questions similar to the DMV motorcycle test
details
FREE Motorcycle Practice Test
Take these 5 sample questions
Motorcycle License Prep Course
Sign up now - Instant access
Motorcycle License Practice Test
Before you take your motorcycle on the open road, you'll need your state's certification to drive it. We recommend all first time riders be over prepared before you head out on the road. Along with a motorcycle safety course we recommend using an online prep course to pass your written exam. You'll study from over 600 questions that include detailed explanations.
Easy to use & easy to learn
Proven teaching methods
Avoid the 50% failure rate
Ace the tricky questions
Learn road rules & signs
Guaranteed to Pass Motorcycle License Prep Course
Are you getting your motorcycle license for the first time? Don't spend hours studying the DMV Handbook when you can study with our convenient online prep course.
It's like having the answers BEFORE you take the DMV test!
Easily learn the answers to motorcycle test questions, plus get detailed explanations.
Money-back guarantee. Complete our prep course and you will pass your written exam your first time or we'll refund your money for the cost of the course!
Motorcycle License Resources
Please Note: Motorcycle Drivers License are issued differently in every state. Please visit your state's DMV website for specific details.
Course Reviews
"I just passed my motorcycle permit test on the first try with a perfect score! Your online test site helped me to really understand the information not just memorize answers. Thanks a Million!!!" - R. Daniels (Pennsylvania)
"I read the MD Motorcycle guide to prepare for my permit test. I failed my first test. Not a person of accepting failure, I purchased your study tool. I did the test questions over and over. Went back to the MVA a day later and passed missing only one question and that was even a goof on my part. Thanks for the tool. " - D. Beil (Maryland)
"I would like to thank you; I pass the Motorcycle Written Test in the first time with a 95, thanks to your reviewing materials." - A. Morales (New York)
"I'm a 50 year old mom of 4 adult children. My husband has ridden a bike since he was 16 and I decided it was time to get my temps. I failed my 1st test by 1 question and came home and enrolled in your 30 day course. After 1 evening of doing the tests, I am proud to say I went back in and passed my test with flying colors. I learned a lot more from your site then reading the book." - J. Bailey (Ohio)