Michigan CDL Test Requirements and Endorsement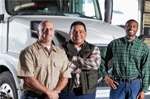 CDL Endorsement by Vehicle Type
How to Prepare for the CDL Exam
License Classifications and ID Requirements
How To Get your Commercial Driver's License
CDL drivers will have to take one or more knowledge tests, depending on what License Class and Endorsements you need. All CDL applicants must take the General Knowledge Test.
Select your Vehicle Type below to tell you any additional tests you must take:
details
Sign Up Now - Instant Access
Do I Need a Commercial Driver License in Michigan?
If you live in Michigan and drive a Class A, B or C commercial vehicle, you must have an Michigan Commercial Driver License (CDL). CDL Endorsements are required for double/triple trailers, tanker vehicles, passenger vehicles and vehicles placarded for hazardous materials.
Any Michigan resident who intends to operate the following commercial vehicles is required to have a commercial driver license:
Single Vehicles - Having a gross vehicle weight rating (GVWR)* of 26,001 pounds or more.
Combination Vehicles - Towing a trailer or other vehicles with a GVWR of 10,001 pounds or more when the gross combination weight rating (GCWR)** is 26,001 pounds or more.
Vehicles: - Designed to transport 16 or more people (including the driver)
Hazardous Materials - Carrying hazardous materials in amounts requiring placarding
*Gross Vehicle Weight Rating (GVWR) is the recommended maximum total weight of the vehicle and load as designated by the vehicle manufacturer. The GVWR label is usually found on the driver side door post of the power unit and on the front left side of the trailer. The GVWR should not be confused with the elected gross vehicle weight (GVW) which is declared by the vehicle owner for registration purposes.
**Gross Combination Weight Rating (GCWR) means the value specified by the manufacturer as the maximum loaded weight of a combination vehicle. In the absence of a label, the GCWR can be calculated by adding the GVWR of the power unit to the GVWR of the vehicle(s) or trailer(s) being towed.
Exemptions
The following people do not need a CDL:
Active Duty Military
Police Officers and Firefighters
Farmers: Operating vehicles within a 150 mile radius of their farm.
Individuals: Operating motor homes or other vehicles used exclusively to transport personal possessions or family members, for non-business purposes.
Visit Michigan.gov for exemption details
Michigan CDL Skills Tests
If you pass the required knowledge test(s), you can take the CDL skills tests. There are three types of general skills that will be tested: pre-trip inspection, basic vehicle control, and on-road driving. You must take these tests in the type of vehicle for which you wish to be licensed. You must take the skills tests through an approved third party tester. Third party testers are public and private agencies authorized by the state to conduct CDL skills tests.
Pre-Trip Vehicle Inspection: You will be tested to see if you know whether your vehicle is safe to drive. You will be asked to do a pre-trip inspection of your vehicle and explain to the examiner what you would inspect and why.
Basic Vehicle Control: You will be tested on your skill to control the vehicle. You will be asked to move your vehicle forward, backward, and turn it within a defined area. These areas may be marked with traffic lanes, cones, barriers, or something similar. The examiner will tell you how each control test is to be done.
On-road Test: You will be tested on your skill to safely drive your vehicle in a variety of traffic situations. The situations may include left and right turns, intersections, railway crossings, curves, up and down grades, and single or multi-lane roads, streets, or highways. The examiner will tell you where to drive.
All three tests are conducted during the same testing session, in the order listed above. Each test must be passed before continuing on to the next test. A failure of any one of the skills tests terminates testing. On subsequent attempts, you must start over from the beginning of the test (vehicle inspection test) regardless of which test you previously failed. You are allowed one (1) attempt per day.
Once you have passed your CDL skills tests, you must return to the Secretary of State branch office to pay a correction fee to add CDL privileges to your license and receive your CDL.
What Are The Other Requirements For A CDL?
You must be age 21 to drive a commercial motor vehicle across state lines (interstate). You may drive a commercial motor vehicle in Michigan (intrastate) at age 18. Note: to transport hazardous materials in a quality that required the vehicle be marked or placarded, you must be age 21 or older.
Federal Motor Carrier Safety Regulations require drivers to pass a physical examination once every 2 years. The main physical requirements include good hearing, 20/40 vision with or without glasses or corrective lenses, and a 70-degree field of vision in each eye. Drivers must not be colorblind.
What Should I Bring To The Department Of Motor Vehicles?
Bring your driver license and proof of your social security number (social security card, payroll check stub or W-2 Form).
What Fees Will I Have To Pay?
Correction Fee - $9.00
Original CDL - $25.00
Endorsements - $5.00
For current CDL licensing and endorsement fees visit the Kansas DMV:
Driver's License Info on Michigan Official DMV website
Where Can I Get More Information?
Michigan CDL Manual: Download Michigan CDL Driver's Handbook

For Federal Requirements for a CDL: http://www.fmcsa.dot.gov/registration-licensing/cdl/cdl.htm
For Medical Requirements for a CDL: http://www.fmcsa.dot.gov/rules-regulations/administration/medical.htm