Florida CDL Test Requirements and Endorsement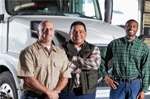 CDL Endorsement by Vehicle Type
How to Prepare for the CDL Exam
License Classifications and ID Requirements
How To Get your Commercial Driver's License
CDL drivers will have to take one or more knowledge tests, depending on what License Class and Endorsements you need. All CDL applicants must take the General Knowledge Test.
Select your Vehicle Type below to tell you any additional tests you must take:
details
Sign Up Now - Instant Access
Do I Need a Commercial Driver License in Florida?
If you live in Florida and drive a Class A, B or C commercial vehicle, you must have an Florida Commercial Driver License (CDL). CDL Endorsements are required for double/triple trailers, tanker vehicles, passenger vehicles and vehicles placarded for hazardous materials.
To operate a commercial vehicle in one of the following classifications, you must have a Florida CDL Endorsement.
Class A License - Any Tractor/Trailer combination that has a GVWR of 26,001 LBS. or more, provided towed vehicle is more than 10,000 LBS.
Class B License - Any single motor vehicle that has a GVWR of 26,001 LBS. or more, or any such vehicle towing a vehicle of 10,000 LBS. or less.
Class C License - Any motor vehicle that has a GVWR of less than 26,001 LBS. when endorsements "H" or "P" would be required on the driver license OR any combination of motor vehicles where the towing vehicle is less than 26,001 LBS. GVWR and the towed vehicle has a GVWR of 10,000 LBS. or less, but together they weigh 26,001 LBS. or more.
The following persons are exempt from the requirements to obtain a commercial driver license:
Drivers of authorized emergency vehicles that are equipped with extraordinary audible warning devices that display red or blue lights and are on call to respond to emergencies
Military personnel driving military vehicles
Farmers transporting farm supplies or farm machinery, or transporting agricultural products to or from the first place of storage or processing or directly to or from market, within 150 miles of their farm
Drivers of recreational vehicles used for recreational purposes
Drivers who operate straight trucks (single units) that are exclusively transporting their own tangible personal property that is not for sale
An employee of a publicly owned transit system who is limited to moving vehicles for maintenance or parking purposes exclusively within the restricted-access confines of a transit system's property.
Florida CDL Skills Tests
If you pass the required knowledge test(s), you can take the CDL skills tests. There are three types of general skills that will be tested: pre-trip inspection, basic vehicle control, and on-road driving. You must take these tests in the type of vehicle for which you wish to be licensed.
Pre-Trip Vehicle Inspection: You will be tested to see if you know whether your vehicle is safe to drive. You will be asked to do a pre-trip inspection of your vehicle and explain to the examiner what you would inspect and why.
Basic Vehicle Control: You will be tested on your skill to control the vehicle. You will be asked to move your vehicle forward, backward, and turn it within a defined area. These areas may be marked with traffic lanes, cones, barriers, or something similar. The examiner will tell you how each control test is to be done.
On-road Test: You will be tested on your skill to safely drive your vehicle in a variety of traffic situations. The situations may include left and right turns, intersections, railway crossings, curves, up and down grades, and single or multi-lane roads, streets, or highways. The examiner will tell you where to drive.
What Are The Other Requirements For A CDL?
The minimum age is 18. Drivers under 21 years of age are restricted to intrastate operation only. The applicant's vision must be at least 20/40 in each eye. Corrective lenses may be worn. The applicant must be able to hear a whisper.
What Should I Bring To The Department Of Motor Vehicles?
Bring your current driver license and your social security card.
Florida ID and Required Documents
What Fees Will I Have To Pay?
Fees are as follows:
Commercial Driver License: $50.00
Endorsements: $5.00
Written Examination Re-Test Fee: $5.00
Skill/Driving Examination Re-Test Fee: $10.00
For current CDL licensing and endorsement fees visit the Florida DMV:
Driver's License Info on Florida's Official DMV website
Where Can I Get More Information?
Florida CDL Manual: Download Florida CDL Driver's Handbook
For Federal Requirements for a CDL: http://www.fmcsa.dot.gov/registration-licensing/cdl/cdl.htm
For Medical Requirements for a CDL: http://www.fmcsa.dot.gov/rules-regulations/administration/medical.htm