How to get a Washington DC Learners Permit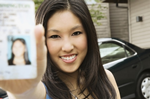 Washington DC Learner's Permit Guidelines
How to Prepare for the Written Exam
Required ID and Paperwork
Washington DC Learners Permit Rules and Requirements
Find out the steps to get your DC driving permit, pass your DMV written test and the required paperwork to bring to the DMV office to get your driver's license.
Try Sample Test!
All applicants need to be familiar with the Washington DC Driver's Manual. Think you know the material? Take our DMV practice test now and test your driving knowledge.
First Time Drivers
Under Washington DC DMV guidelines, you must wait until your 16th birthday before you can apply for a Learners Permit. All applicants are required pass a written exam and a vision test in order to obtain the permit. You then must hold it for at least 6 months and log 40 hours of driving before applying for a provisional license.
Prepare for the Written Test
The Washington DC DMV requires that all applicants must pass a written exam on traffic laws, rules and regulations. The test is based on the latest edition of the Washington D.C. Driver Manual. If you fail the knowledge test, you'll typically have reschedule a time to re-test and pay an additional fee.
All new drivers are encouraged to study for this driver education exam so you don't miss the opportunity to get your learners permit as soon as you reach the approved age. Online practice tests are available that provide real sample questions from the DMV Exam - Take the Washington DC practice permit test now and test your driving knowledge.
Required Paperwork
Before you head to the Washington DC Motor Vehicle Office, make sure you have all of the following required documents to get your learners permit:
You must have valid proof of birth, social security number, and DC residency or a valid DC identification card.
A Notarized Parental Consent Form with a copy of parent's or legal guardian's DC driver's license or DC identification card.
On the Road
When you first receive your Washington DC learners permit, you are allowed to practice between the hours of 5:00 am and 11:00 pm with a licensed driver who is at least 21 years old in the front seat. Other restrictions require that you and your passengers must wear seat belts at all times and the use of a mobile phone or other electronic device with (with or without hands free accessories) while driving is prohibited.
Washington DC Drivers Permit Resources