Washington D.C. CDL Test Requirements and Endorsement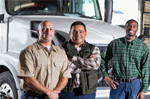 Obtain Your CDL Endorsement by Vehicle Type
Learn How to Prepare for the CDL Exam
Determine License Classifications and ID Requirements
Obtaining Your CDL
Prior to becoming certified as a CDL-licensed driver, you will have to take one or more knowledge test(s). The exams that you take ultimately depend on what license class and endorsements you are looking for.
Available CDL Courses
When you enroll in our comprehensive Washington, D.C. CDL practice test course, you are familiarizing yourself with the following courses: general knowledge, air brakes, combination vehicles, hazardous materials, school bus, passenger transport, pre-trip inspection, and tankers.
Take a FREE CDL Practice Test
details
Sign Up Now - Instant Access
When do I need my CDL in Washington, DC?
If you are (or are planning) to drive a Class A, B, or C commercial vehicle, you must have a CDL. The license classifications are as follows:
Class A License - This classification pertains to any vehicle with a semi-trailer or trailer with two or more axles, as well as any combination vehicle with a Gross Combination Weight Rating (GCWR) higher than 26,000 pounds. However, the vehicle being towed must also be in excess of 10,000 pounds; otherwise a Class B license will suffice.
Class B License - Any "Heavy Straight Vehicle" with a GVWR of more than 26,000 pounds falls under this category, as well as combination vehicles in which the vehicle in tow does not exceed 10,000 pounds.
Class C License - If a vehicle is designed to transport 16 or more passengers (including the driver), or is marked for the transport of hazardous materials, then it falls under this classification.
Skills Tests and Further Requirements
Once you have completed the required knowledge test(s), you then have the ability to take the CDL skills tests. During this segment, you must test in a vehicle representative to the one you will be driving. The following are three kinds of tests that the general skills portion will examine:
Pre-trip Vehicle Inspection - Here you will be tested as to whether your vehicle is ultimately safe to drive. You will be asked to perform an inspection on your vehicle, as well as explain to the examiner why you did so.
Basic Vehicle Control - Your skill to control the vehicle is perhaps the most important aspect of obtaining your CDL. During this section, you will be asked to move your vehicle forwards and backwards, as well as turn within a defined area.
On-road Test - Another important aspect of obtaining your CDL involves driving safely in a variety of traffic situations. The on-road test is ultimately the deciding factor (though of course all tests must be passed).
In order to qualify for a CDL, you must be 18 years of age (with one year of driving experience). If you are between 18 and 21 years of age, you can only operate your vehicle within the District of Columbia. You must be at least 21 years old to drive interstate.
To apply for your license, you will need to retain or currently have residency in Washington, D. C., and cannot have had your license denied, suspended, or revoked. Finally, you must be able to obtain medical certification.
The main physical requirements include good hearing, 20/40 vision with or without glasses or corrective lenses, and a 70-degree field of vision in each eye. Drivers must not be colorblind.
Fees and Information
The following fees pertain to CDL:
CDL Learner's Permit - $39
CDL (First-Time and Renewal) - $117
CDL Downgrade - $39
CDL Duplicate - $13
Additionally, the following links are highly beneficial:
Washington D.C. ID and Required Documents

Driver's License Info on Washington D.C.'s Official DMV website
Washington D.C. CDL Manual

Federal Requirements for a CDL
Medical Requirements for a CDL
Enroll in our comprehensive course today!
After you have become enrolled in our comprehensive Washington, D.C. CDL practice test course, you will be taking steps in the right direction! These comprehensive courses will aide you in obtaining your Washington, D.C. CDL with ease!