Utah Practice Permit Test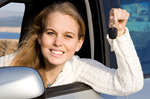 Know the answers before you take the exams
Study 100% online with unlimited practice tests
Money-back guarantee
Course Summary
Pass your test with confidence
Easy to use & proven teaching methods
Avoid the 50% failure rate
Learn road rules & signs
Feel "over-prepared" without spending hours studying
details
Sign Up Now - Instant Access
Here is how the permit practice test works:
Prepare for your driving permit online with our practice permit test course! You'll get to see over 1,500 questions and answers similar to those found on the DMV test, along with detailed explanations.
When you log in, you will be given a test consisting of 20 random road rules and road sign questions selected from our database. Take the test as many times as you like, because the test questions change each time you log in. Correct answers are provided at the end of each question, along with detailed explanations.
It's like having the answers BEFORE you take the DMV Exam!
Easily learn the answers to the Road Signs and Road Rules Tests, plus get detailed explanations.
Unlimited Practice Exams & Includes Our Money-Back Guarantee!
When you have successfully taken and passed each test - both the road rules and road signs - at least five times, we guarantee you'll pass your driver's test the FIRST time at your local DMV driver's license office or we will provide you with a full refund for the cost of the course!
This is the smart way to pass your driver's license exam!
Don't take a chance on standing in line at the DMV Office only to go home empty-handed. Take our Practice Permit Test and become a Safe Driving Teen!
Course Benefits for First Time Driver
You will receive the best preparation available to pass your driving permit test and become a safe driver when you complete our course.
Fun, easy and interactive course. Log-in anytime!
Quickly learn the Rules of the Road and Road Signs!
Course Benefits for Parents
Our course uses proven teaching methods developed for training our military service members. Your son or daughter will not only pass, but they'll drive away with the thorough background they need to be a safe driver...and isn't that the most important thing?
When your son or daughter has successfully taken and passed the test at least five times we GUARANTEED they'll pass the official test at your local DMV office.
Course is approved by the National Safety Commission
All new drivers need to be familiar with the Utah Driver's Manual. Think you know the material?
Take our FREE DMV practice permit test now and test your driving knowledge.
Try Sample Test!
Utah DMV Graduated Driver License Laws
Stage One - Learners Permit: A new driver must be at least 15 years old to apply for a learner's permit. The required holding period for a learner's permit is 6 months. The licensee must complete 40 hours of driving time, 10 of which should be for nighttime driving.
Stage Two - Intermediate License: Before applying for an intermediate license, the driver must be at least 16 years old. The nighttime restriction for an intermediate license is not being allowed to drive between the hours of midnight to 5 AM. For the first 6 months, the licensee is not allowed to have any passengers.
Stage Three - Unrestricted/Regular License: The nighttime driving restrictions for Utah may be removed at the age of 17 years, while the passenger restriction is lifted at age of 16 years and 6 months old.