Indiana Motorcycle Practice Test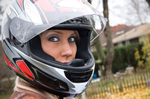 Know the answers before you take the DMV motorcycle test
Unlimited motorcycle tests with our prep course
Money-back guarantee
details
Sign Up Now - Instant Access
Course Summary
Pass your written test with CONFIDENCE
Proven effective FAST & EASY course
Eliminates the need to study handbooks
Avoid the 50% failure rate & PASS today
100% Guaranteed
Access Time: 30-Days
Prepare for the Motorcycle License written test online!
You'll get to see over 600 questions and answers similar to those found on the DMV Motorcycle test, along with detailed explanations.
It's like having the answers BEFORE you take your motorcycle exam!
Quickly learn rules of the road, laws, traffic signs and safety, plus get detailed explanations.
Unlimited Practice Exams & Includes Our Money-Back Guarantee!
The Motorcycle Test is not easy and many applicants fail the exam! Last year, some states had more than 50,000 failures. But now, you can feel "over-prepared" without having to spend hours studying the DMV Handbook.
This is the smart way to pass your Indiana motorcycle license exam!
You will receive the best preparation available get your motorcycle license endorsement when you complete our easy to use, easy to learn online prep course. It utilizes proven teaching methods developed for training our military service members.
Fun, easy and interactive prep course
Multiple choice questions and answers from every chapter of the Indiana Driver's Manual
Take the course at your convenience day or night, 7 days a week!
When you have successfully taken and passed our motorcycle prep course at least five times, we guarantee you'll pass your motorcycle test the FIRST time at your local driver's license office or we will provide you with a full refund for the cost of the course!
Indiana Motorcycle License Endorsement
Under Indiana ITD guidelines, anyone who drives a motorcycle must have a Class M motorcycle license or motorcycle instruction permit.
To add a motorcycle endorsement to your valid Indiana driver's license, you must hold a motorcycle learner's permit and pass a motorcycle skills test or complete a motorcycle safety course. When you visit a license branch to apply for your motorcycle endorsement, you must provide proof that you have passed a motorcycle skills test or safety course, and pass a standard vision screening test. You must also present certain documents of identification.
Like most states, Indiana will waive your skills test and issue you a license if you complete an approved ABATE motorcycle safety course. A safety course completion card is valid for waiver of the skills test for up to one year from your course completion date. These courses last anywhere from two to six weeks and include classroom instruction as well as driver training in a controlled, off-street environment. When you successfully complete this course, you will be eligible for your motorcycle driver's license without having to take your Indiana road test.
All applicants need to be familiar with the Indiana Motorcycle Driver's Manual. Think you know the material?
Take our FREE motorcycle practice test now and test your driving knowledge.
Try Sample Test!