Connecticut CDL Test Requirements and Endorsement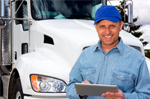 CDL Endorsement by Vehicle Type
How to Prepare for the CDL Exam
License Classifications and ID Requirements
How To Get your Commercial Driver's License
CDL drivers will have to take one or more knowledge tests, depending on what License Class and Endorsements you need. All CDL applicants must take the General Knowledge Test.
Select your Vehicle Type below to tell you any additional tests you must take:
details
Sign Up Now - Instant Access
Do I Need a Commercial Driver License in Connecticut?
If you live in Connecticut and drive a Class A, B or C commercial vehicle, you must have an Connecticut Commercial Driver License (CDL). CDL Endorsements are required for double/triple trailers, tanker vehicles, passenger vehicles and vehicles placarded for hazardous materials.
To operate a commercial vehicle in one of the following classifications, you must have an Connecticut CDL Endorsement.
Class A License - Combination Vehicles. Any combination of vehicles with gross combination weight rating (GCWR) of 26,001 or more pounds falls in Class A, providing the gross vehicle weight rating (GVWR) of the vehicle(s) being towed is in excess of 10,000 pounds.
Class B License - Heavy Straight Vehicles. Any single vehicle with a GVWR of 26,001 or more pounds, or any such vehicle towing another vehicle of no more than 10,000 pounds GVWR, falls in Class B.
Class C License - Vehicles designed to transport 16 or more passengers, including the driver, and vehicles placarded for hazardous materials, that do not meet the criteria for Class A or B above fall under this classification.
About the CDL Knowledge Tests
The general knowledge test, which must be taken by all CDL applicants, consists of 30 questions (you can get no more than six incorrect). Each endorsement test includes 10 questions (you can get no more than two incorrect). An applicant must pass the general knowledge test before a skills test can be scheduled. Skills tests are made by appointment only.
Connecticut CDL Skills Tests
An operator is required to take a skills test if he/she currently holds a:
- non-commercial license and wishes to obtain a CDL.
- CDL "C" and wishes to obtain a CDL "B" or "A".
- CDL "B" and wishes to obtain a CDL "A".
- CDL and wishes to obtain a "P" Endorsement.
- CDL and wishes to remove an "Air Brake Restriction".
You will be evaluated on the following items:
Pre-trip Inspection
Static Course
On the Road Test
Failure of any part of the skills test will result in a failure of the entire skills test. If you fail you will be required to go back to the office where you took your knowledge/endorsement tests and pay $30 to take the test again. There is a minimum seven-day waiting period between skills tests.
What Are The Other Requirements For A CDL?
Applicants must:
be at least 18 years of age.
be at least 21 years of age to haul hazardous materials.
be at least 21 years of age to drive interstate.
carry a medical certificate stating he/she meets the federally mandated minimum physical requirements necessary to operate such motor vehicle.
The main physical requirements include good hearing, 20/40 vision with or without glasses or corrective lenses, and a 70-degree field of vision in each eye. Drivers must not be colorblind.
What Should I Bring To The Department Of Motor Vehicles?
Before you head to the DMV, make sure you have all of the acceptable forms of identification to get your CDL.
Your Connecticut driver's license.
Your Social Security card (laminated or metal cards are unacceptable) or your most recent W-2 form.
Physical examination by a medical examiner dated within the last 90 days, reported on an Examination to Determine Physical Condition of Driver (DMV Form R-323), or a U.S. D.O.T. Medical Examiner's Physical Examination Form CO730, which meets U.S. D.O.T. requirements in 49 CFR 391.41-391.49.
You will be required to complete the Application for Commercial Driver's License (DMV Form R-229a).
Note: If you are not a citizen of the United States, you will be required to show proof of your legal status in this country.
Connecticut ID and Required Documents
What Fees Will I Have To Pay?
For current CDL licensing and endorsement fees visit the Connecticut DMV:
Driver's License Info on Connecticut's Official DMV website
Where Can I Get More Information?
Connecticut CDL Manual: Download Connecticut CDL Driver's Handbook

For Federal Requirements for a CDL: http://www.fmcsa.dot.gov/registration-licensing/cdl/cdl.htm
For Medical Requirements for a CDL: http://www.fmcsa.dot.gov/rules-regulations/administration/medical.htm