California CDL Test Requirements and Endorsement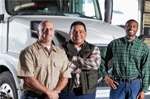 CDL Endorsement by Vehicle Type
How to Prepare for the CDL Exam
License Classifications and ID Requirements
How To Get your Commercial Driver's License
CDL drivers will have to take one or more knowledge tests, depending on what License Class and Endorsements you need. All CDL applicants must take the General Knowledge Test.
Select your Vehicle Type below to tell you any additional tests you must take:
details
Sign Up Now - Instant Access
Do I Need a Commercial Driver License in California?
If you live in California and drive a Class A, B or C commercial vehicle, you must have an California Commercial Driver License (CDL). CDL Endorsements are required for double/triple trailers, tanker vehicles, passenger vehicles and vehicles placarded for hazardous materials.
In California, a commercial vehicle is a motor vehicle or combination used for hire to transport passengers or property or which:
Has a gross vehicle weight rating (GVWR) of 26,001 pounds or more
Is designed, used, or maintained for carrying more than 10 passengers, including the driver
Tows a vehicle or trailer, which has a GVWR of 10,001 pounds or more
Transports hazardous materials, which requires placards
Tows any combination of two trailers or vehicle and trailer
How Do I Start The Process Of Applying For A CDL?
In California, to apply for a commercial permit you will need to:
Visit a DMV office (make an Appointment(s) for faster service)
Complete a California Driver License Driver License Application form (DL 44 or DL 44C). (An original DL 44C form must be submitted. Copies will not be accepted.)
Complete a 10 Year History Record Check form (DL 939) if you have been issued a driver license in the same or different name to operate any type of motor vehicle in another state or other jurisdiction within the previous ten years
Provide verification of your social security number. It will be verified with the Social Security Administration while you are in the office.
Verify your birth date and legal presence
Pay the application fee for a 5-year license
Pass a vision exam
Submit a completed Medical Examination Report form DL 51.
Pass the traffic laws and sign tests for the class of vehicle you will drive. You have three chances to pass the test.
You can only drive with a person who has a valid California driver license in the class of license that your permit is for and is the specific age required for that class of license.
To apply for a commercial driver license, follow these steps:
Call a DMV CDL office and make an appointment (driving test appointments cannot be made online)
Bring the type of vehicle for the class you want to drive
Pass a pre-trip inspection (You have three chances to pass the pre-trip)
Pass a skills and driving test (You have three chances to pass the skills and driving test)
OR
Submit to DMV a Certificate of Driving Skill (DL 170) if your employer is authorized by DMV to issue such certificates. Both you and your employer sign this form.
After you pass your driving test or submit your certificate, you will be issued an interim license valid for 60 days until you receive your new photo license in the mail.
California CDL Skills Tests
If you pass the required knowledge test(s), you can take the CDL skills tests. There are three types of general skills that will be tested: pre-trip inspection, basic vehicle control, and on-road driving. You must take these tests in the type of vehicle for which you wish to be licensed.
Pre-Trip Vehicle Inspection: You will be tested to see if you know whether your vehicle is safe to drive. You will be asked to do a pre-trip inspection of your vehicle and explain to the examiner what you would inspect and why.
Basic Vehicle Control: You will be tested on your skill to control the vehicle. You will be asked to move your vehicle forward, backward, and turn it within a defined area. These areas may be marked with traffic lanes, cones, barriers, or something similar. The examiner will tell you how each control test is to be done.
On-road Test: You will be tested on your skill to safely drive your vehicle in a variety of traffic situations. The situations may include left and right turns, intersections, railway crossings, curves, up and down grades, and single or multi-lane roads, streets, or highways. The examiner will tell you where to drive.
What Are The Other Requirements For A CDL?
Federal Motor Carrier Safety Regulations require drivers to be at least 21 years old and pass a physical examination once every 2 years. The main physical requirements include good hearing, 20/40 vision with or without glasses or corrective lenses, and a 70-degree field of vision in each eye. Drivers must not be colorblind./p>
Persons under 18 may not be employed to drive a motor vehicle. Minors may not drive a school bus containing pupils. You must be at least 21 to drive most commercial vehicles for hire in interstate commerce and to transport hazardous materials or wastes.
What Should I Bring To The Department Of Motor Vehicles?
Bring your current driver license, a Department of Transportation Physical Examination Form, proof of social security card, and proof of birth date and legal presence.
California ID and Required Documents
What Fees Will I Have To Pay?
For current CDL licensing and endorsement fees visit the California MVR.
Driver's License Info on California's Official DMV website
Where Can I Get More Information?
California CDL Manual: Download California CDL Driver's Handbook

For Federal Requirements for a CDL: http://www.fmcsa.dot.gov/registration-licensing/cdl/cdl.htm
For Medical Requirements for a CDL: http://www.fmcsa.dot.gov/rules-regulations/administration/medical.htm